Jews Elated Over New UK PM Theresa May
This piece, intended for Jewish consumption and here edited for clarity and accuracy, shows where the new PM's loyalties lie.

UK HOME SECRETARY Theresa May has skilfully maneuvered herself into the leadership of Britain's Conservative party. Later this week, after David Cameron answers his last prime minister's questions in parliament, she will receive the seals of office from Queen Elizabeth and take up residency in Downing Street. The main question facing May as she enters office will be how to deliver on last month's referendum vote to leave the European Union, which she opposed.
But the British-Jewish leadership and Israeli diplomats anxious to gauge the leanings of the Cameron successor, probably the most pro-Israel and Jew-friendly prime minister in British history, are of course looking for other signs. Naturally, none of them have expressed their views in open, but Theresa May was the clear favorite of the Jewish community.
As far as the Jewish community is concerned, May, as the home secretary in charge of the police forces and the MI5 security service, has done everything possible to instruct police to protect Jewish schools and synagogues, directing millions of pounds of extra funding for Jewish security, [even though British Jews are perhaps the wealthiest segment of the world's wealthiest and most powerful ethnic group.]
The additional security had been provided already in the wake of anti-Israel protests and "anti-Semitic attacks" two years ago, at the time of Israel's attacks on Gaza. In January 2015, when, following the attack on the Jewish grocery store in Paris, her office called the [Jewish] Community Security Trust (CST) to see if they thought more security was required, one of the CST officials said "it was hard to think of anything else they could still do for us."
Echoing words similar to those of French Prime Minister Manuel Valls, May said in numerous public appearances since the Paris attacks that "Without its Jews, Britain would not be Britain."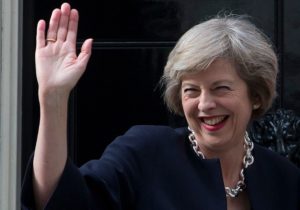 May has often been guest of honor at Jewish community events, including at the CST's annual dinner and last year at the Bnei Akiva youth movement's Israel Independence Day event that took place at an Orthodox synagogue in north London. May arrived appropriately with a hat, knew not to shake hands with the chief rabbi who was there and succeeded in uttering a few Hebrew words in a resoundingly pro-Israel speech of which Benjamin Netanyahu would have been proud.
On Israel, May is regarded as extremely supportive, though she hasn't been involved in foreign policy. The assumption in London is that in a May government, the new foreign secretary will be Chancellor of the Exchequer George Osborne, who is also considered very pro-Israel and in the past played a central role in urging the British financial sector to cut Iran off from the global banking and insurance networks.
Shortly after a visit to Israel, May addressed the Conservative Friends of Israel. She said there that "it is worth re-stating the threats faced by Israel because they are considerable," listing Hamas, Hezbollah, ISIS and Iran, saying that "no democratic government could, in the face of such danger, do anything but maintain a strong defense and security capability and be prepared to deploy it if necessary."
But she also added that "we must remember that there will be no lasting peace or justice in the region until the Palestinian people are able to enjoy full civil rights themselves." She also said that "when Israel faces the full range of threats I have just listed, when Israel faces enemies that are intent on its very destruction, when Hamas uses Palestinian civilians as human shields for its rockets, when there are thousands of Israeli settlers living in the West Bank, it is easy to talk about a two-state solution but almost impossible to know how to move towards one."
While May's record as home secretary for six years was the main selling-point in her short leadership campaign, it wasn't a period without mishap. Despite her tough positions on immigration, she failed to bring order to Britain's rather chaotic border controls.
In 2011, May banned the entry to Britain of the leader of the Northern Branch of the Islamic Movement in Israel, Raed Salah, who had been indicted in Israel for terror-related activities and incitement. When she learned that he had already arrived, she ordered his arrest, but was afterwards overruled by a court.
While May was criticized from left and pro-Palestinian groups for Salah's arrest, she has been attacked on the right for not clamping down on Sharia Muslim courts, which are accused of harming women's rights. This, however, hasn't been a concern of the Jewish community, which is interested in the continued independence of its own batei din [Jewish religious courts, similar to Islamic sharia courts].
* * *
Source: Haaretz and National Vanguard correspondents