Woman Raped in Germany by Asylum Seekers Who Were 'Having a Bad Day'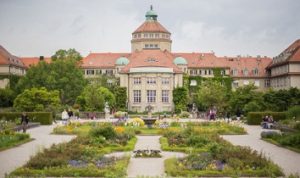 A WOMAN was dragged into a flower bed in a park and raped by two asylum seekers after she asked them to stop shouting, a court in Munich heard today. (ILLUSTRATION: The rape took place at Munich's botanical gardens.)
The German woman, identified as Marlies G, asked them to keep the noise down while she tried to sleep in the middle of Munich's Old Botanical Gardens.
Rather than stop, the two men, who had been drinking whiskey cola, sexually assaulted the 56-year-old last August.
The two men are asylum seekers from Eritrea and explained the attack by saying: "We were having a bad day."
Both men were arrested two months after the attack when the woman raised the alarm following her ordeal. Both have pleaded guilty to carrying out the sex attack.
The pair, identified as 23-year-old Filmon K. and 26-year-old Habtom E. said they were drinking and could not remember much about what happened.
A criminal case against the two was adjourned, however, after the victim suffered panic attacks.
She had to telephone the court to postpone her appearance in which she was expected to give evidence in front of the two men.
In their witness statement they admitted that after she had spoken to them, the 26-year-old had gone over and asked if they could have sex.
Without waiting for an answer, they had then grabbed her and ripped off her clothing.
Filmon told police: "I told my friend that you can go first, and he told me no, you go first, and I'll go later."
They said the woman screamed and unsuccessfully tried to fight them off. She was first raped by Filmon and later by Habtom in the daylight sex attack.
They had then run off. Police raised the alarm and managed to arrest the pair in October.
Asked why they had done it, Filmon said: "You know how it is, we were having a bad day."
The judge then replied sarcastically: "It was not only a bad day for you.
* * *
Source: Norwegian Defence League