Vienna: 1,000-strong Protest Against Non-White Invasion
ABOUT 1,000 nationalists took to the streets of Vienna yesterday to protest against mass immigration & Islamisation.
The group of protesters was soon met with a counter-demonstration of nearly the same number of antifa, who tried to block the demo. They threw stones, bottles and iron rods at nationalist supporters, police said in a press release.
As nationalists started to fight back, police pepper sprayed both sides. 13 injuries were reported including four police officers.
Seven of the left-wing protesters were arrested for a variety of public order offenses, while one member of the right-wing group was arrested for alleged neo-Nazi propaganda activity. Within the group of right-wing protesters were visitors from France, Germany and Italy.
The nationalists said they were against the influx of refugees in Austria. According to the group's co-founder Martin Sellner, Austria has become "a hotspot for international terrorism" and it has "a huge problem with Islamisation."
"In Vienna you don't recognize your own city anymore. You don't hear one German word on the streets. And the situation got really worse and worse during the refugee crisis. And that's why the Austrians are waking up, joining our movement and taking to the streets."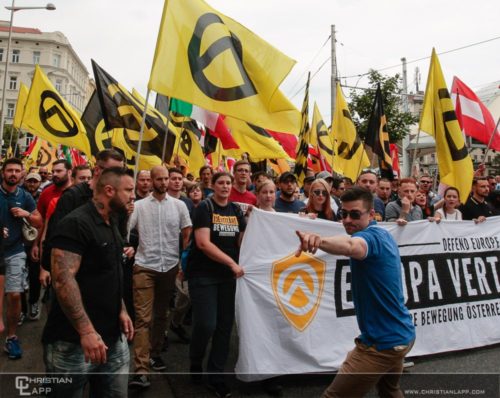 The Generation Identity Movement is affiliated with the Freedom Party of Austria, a right-wing populist political party gaining popularity in the country. Its representative Norbert Hofer was narrowly defeated in the 2016 presidential elections. Official results showed the party's candidate lost by less than one percentage point, but many are claiming election fraud.
* * *
Source: Yes Pasaran!