The Congoid as Nature Made Him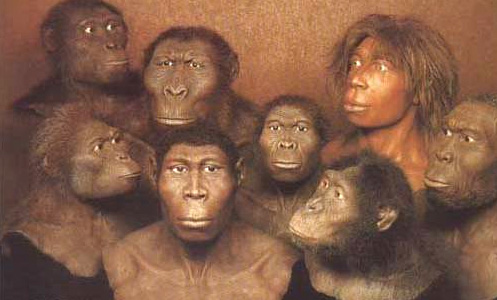 by Fred Streed
Note by David Sims: I like the implicit Heinlein reference in this piece (which has been slightly edited for a family audience). It's from Heinlein's book Time Enough for Love, in which the character Lazarus Long advises other members of his family, "Never attempt to teach a pig to sing; it doesn't work and annoys the pig."
* * *
THE NEGRO is a product of natural selection, as are Whites. Our European ancestors evolved to plan ahead, delay gratification, and take a "K selected" approach toward raising their children (fewer children, more effort spent on them). (ILLUSTRATION: Early humans shown in facial reconstructions based on fossil evidence)
The Negro evolved its own set of traits useful for the equatorial jungles and savanna. Planning ahead didn't really have much survival value in an environment with a steady supply of food all year. Impulsive opportunism had survival value, so it was selected. Negroes developed an "r selected" reproductive strategy (more offspring, less effort expended on each).
In their native jungle environment, before Whites came along, African Negroes would populate their ecosystem to carrying capacity. Their days were filled lounging around in relatively large bands. Impulsiveness, the larcenous tendency to snatch something from another member of the band, and other similar behaviors could carry a survival advantage.
During interactions with females, the males found that loud banter, the verbal ability to exaggerate and lie outrageously, and strutting around like a peacock doped up on chicken crank maximized reproductive opportunities. As did rape.
Individual Negro males put almost no energy into raising children, and they usually didn't even know which children were theirs. Or care. The end result of that was that it was also to the advantage of any Negro female not in a chief's harem to have offspring from several males — the "best available" at any given time. A quickie with the loudest, brashest, strutting buck was desirable under such a reproductive strategy; a different father for each child was the practical ideal.
Of course all of those behaviors, for which "Tyrone" is genetically predisposed, are precisely the actions that land his worthless carcass in prison when he lives in a White society. I think that Blacks are genuinely puzzled by White reactions to their behavior. Rape? What's the big deal? Theft? Isn't that how you get a big screen TV?
And yet the "liberal" idiots, persuaded by the Jews, insist on imposing Negroes on White society, and on imposing White society on Blacks. It doesn't work, and it annoys the Blacks.
* * *
Source: David Sims