Swimming Pool in Austria Bans All Refugees After 13-Year-Old Girl is Sexually Assaulted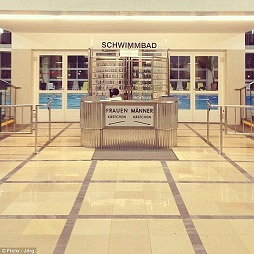 AN OUTDOOR swimming pool in Austria has banned refugees after a 13-year-old girl told police that a man followed her into the women's dressing room and sexually molested her.
Operators of the pool in the town of Mistelbach, about 100 kilometers (60 miles) northwest of Vienna, have erected signs saying 'today no entry for refugees'.
The daily Kronen Zeitung said that police are investigating Wednesday's reported attack at the pool.
It cited the girl as saying the man had a dark complexion and fled after she screamed but gave no other details.
The newspaper carried a photo of the sign and said it was put up at the entrance of the pool on Thursday.
Local mayor Alfred Pohl told The Local: 'This decision was not taken lightly, but I take responsibility.'
Two security guards are being hired to patrol the swimming pool and the ban on refugees will stay until 'the security is in place', Pohl said.
The latest alleged incident comes after a 10-year-old boy was raped at an Austrian swimming pool by an Iraqi who said it was 'a sexual emergency'.
The boy was raped in a cubicle of the Theresienbad pool on December 2, 2015.
The child had to be hospitalised with serious injuries and his mother said her son has been crying himself to sleep every night since the attack.
Speaking to local media, his mother Dunja revealed how she was a single mother, who had struggled with little money but had always encouraged her five children not to judge other people.
'I couldn't believe it when I heard that. I come from Serbia, and I spent five years living in a Caritas home together with people from many different nations.
'You certainly can't call me a racist, but to try and defend himself in that way is just monstrous. It's like me saying I'm going to go to a bank tomorrow and rob it because I don't have enough money for my five children.'
The Iraqi man had been working as a taxi driver in Vienna and when reports emerged on Facebook police said they must be sensitive about cases involving migrants, who have 'been through a lot', but that there would be zero-tolerance.
However, police later officially announced the details of the shocking crime.
The 22-year-old attacker was jailed for six years.
* * *
Source: Norwegian Defence League