Many of Bill Cosby's Rape Accusers May Testify Against Him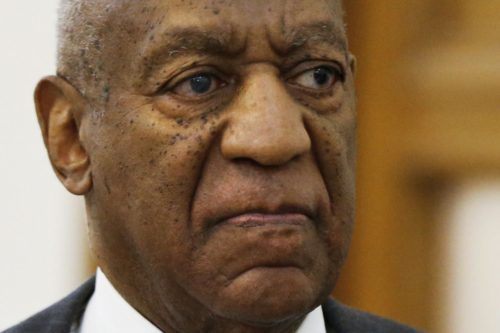 This would make the rape case against him much stronger.
Note by David Sims: Accused serial rapist Bill Cosby (a Black with some celebrity status) is back in the news. He's going to trial in Pennsylvania for an alleged 2004 rape of Andrea Constand.
The specific charges are three counts of "aggravated indecent assault" (a felony). Each charge carries a possible penalty of 10 years, if Cosby is convicted, meaning he might face a maximum sentence of 30 years.
Andrea Constand was a Temple University basketball coach who Bill Cosby was tutoring — in what I don't know. Ms. Constand says that Cosby invited her to his mansion in Cheltenham, Pennsylvania, where he gave her pills and molested her while she was under the influence of whatever drug was in the pills.
Bill Cosby has been accused by more than 50 women of some kind of sexual assault. The alleged crimes are said to have begun about 1965 with the rapes of Kristina Ruehli (then age 22) and Sunni Wells (then age 17). Both of those women are White, as are the vast majority of the victims. Cosby's youngest alleged victim was 15 years old: Renita Chaney Hill, in 1982.
It must be embarrassing to all of the political leftists who have been pointing at Bill Cosby for years as a proof that some Blacks are good people with a past record that anyone might be proud of. They will have to find another poster boy. And, when they do, it's a pretty safe bet that that one will be, also, just another typical Negro with a good cover story.
* * *
A HIGH-PROFILE women's rights attorney says Bill Cosby's defense team will do something all too common in rape cases: attack the victims.
Gloria Allred represents more than 30 women who have accused Cosby of drugging and sexually assaulting them. She spoke to Yahoo Guest Editor Stephanie Sy Wednesday for her first interview since a judge ordered the once beloved comedian to stand trial.
Having been in a Pennsylvania courtroom during the proceedings the day before, Allred said she suspects what Cosby's defense team's plan will be during the upcoming trial.
 "They will attack the victim. That's what defense attorneys do," she said. "They started that process yesterday. Are they trying to contaminate the potential jury pool? Very possibly they are."
More than 50 women have accused Cosby, now 78, of sexually assaulting them, but many of the alleged incidents occurred decades ago and exceed the statute of limitations.
Allred said that Andrea Constand, the former Temple University employee whose allegation of sexual abuse in 2005 led to Pennsylvania's criminal charges against Cosby, will have to be brave because she will undergo a brutal cross-examination by the defense as they attempt to defame and discredit her.
"I've been practicing law for 40 years. I represent many victims even now in rape cases and sexual assault cases. Defense attorneys will ordinarily try to put the victim on trial instead of their own client, the defendant, on trial," she said.
But, she said, the "evidence is going to speak for itself."
Allred said Pennsylvania's prior bad acts doctrine could allow the prosecution to call to the stand as witnesses other women who have accused Cosby of sexual misconduct. This could be "devastating" to Cosby's case, she said.
"That, I think, is what could make a difference in this case, so it's not just going to be he said versus she said. It could be she-she-she-she said versus he said,"Allred said.
* * *
Source: Author and Yahoo! News