Jews Issue "Plan of Action" for Austrian Freedom Party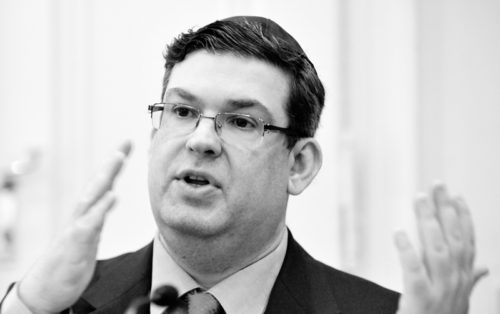 As they have also done with France's Front National and countless other nationalistic groups in the past; what they cannot destroy, they corrupt.
AUSTRIA'S JEWISH leaders are reportedly considering normalising relations with the country's far-right Freedom Party (FPO), which has a long history of antisemitism.
Oscar Deutsch (pictured), the president of the Jewish Community in Vienna, and his predecessor, Ariel Muzicant, told the Israeli news website NRG they had put together a "plan of action" for the FPO to implement if it seeks to establish formal contact with the community.
FPO politician Norbert Hofer lost the Austrian presidential election by a tiny margin last month.
Current FPO leader Heinz-Christian Strache is a strong public supporter of Israel and has said he wants to purge his party of antisemitism.
Mr Muzicant told NRG the party needed to take "substantial steps to clean the antisemitic and neo-Nazi elements still active in its ranks".
He added that if Mr Strache "wants to get the Jewish people's seal of approval, and that of Israel, he needs to prove that he has totally rejected those espousing such views".
Mr Strache told NRG he was in principle willing to meet the requirements and would study the community's demands.
The Freedom Party continues to sponsor the annual ball of the Vienna Korporationsring, a group of German-nationalist fraternities ("Burschenschaften") that form a gateway between the political far-right and neo-Nazis.
In 2012, the ball took place on January 27, the same day Auschwitz was liberated by the Red Army in 1945.
Historically, the Burschenschaften played an important role in the rise of National Socialism. Even today, most of these Burschenschaften are proud of being "Judenrein".
The head of the Conference of European Rabbis (CER), Pinchas Goldschmidt, told Reuters in an interview in Vienna this week: "I understand that, most probably, a not insignificant part of the (Jewish) community here voted for Hofer for the presidency."
Rabbi Goldschmidt, who is also the chief rabbi of Moscow, said he had received reports of a similar shift among French Jews towards supporting the anti-immigration National Front ahead of presidential and parliamentary elections next year in France.
"When God gave out intelligence, not everybody stood in line. And so when those parties come with a populist message to the Jews and say 'We're going to save you from the Muslims' … propaganda is effective," he added.
* * *
Source: Jewish Chronicle