Incompetent Jewish Coder Creates Online "Nazi Detector"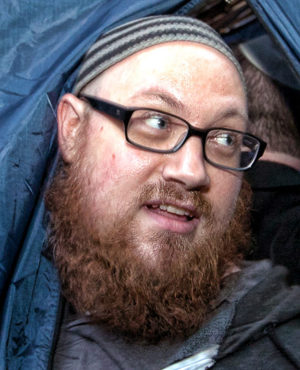 This is a very weak response to the much more effective (and now banned) Coincidence Detector, which identified Jews; the "Nazi Detector" didn't mark some of the most prominent Jew-critics around, such as David Duke, William Pierce, Kevin Alfred Strom — and even missed many of the most well-known WW2 German National Socialists, including Hitler!
AN INTERNET TOOL singles out supposed "extreme right-wingers" online — and Donald Trump — by putting swastikas around their names, mirroring an earlier application that racially conscious Whites used to identify Jews online. (ILLUSTRATION: Daniel Sieradski, originator of the poorly programmed app, was also behind "Jewschool" and several other Jewish Web sites.)
The "Nazi Detector," a Google Chrome extension, identifies not only "white supremacist" social media users, "famous Nazis" and anti-Semitic groups, including Adolf Hitler, David Duke [This piece of garbage software actually did not even flag Dr. Duke's byline on his own Web site. — Ed.], and the Ku Klux Klan, but also the presumptive Republican nominee, changing his last name to "Trumpler," in an allusion to Hitler.
"Donald Trump talks about Muslims and other people of color the way Hitler talked about us in the lead-up to the Shoah," the application's Jewish creator, Daniel Sieradski, told the Forward in an email.
"The guy needs to be called out for his hateful incitement at every turn. And if that means drawing parallels between him and Hitler to jog people's sense of outrage, so be it," Sieradski added.
Earlier in June, the discovery of the Coincidence Detector, which identified Jews online by putting parentheses on each side of their name, for example (((Forward))), ignited a social media firestorm as Jews and allies purposely added parentheses to their Twitter handles in order to mock the application. Google later removed the anti-Semitic add-on.
A test-run showed that the Nazi Detector, which went live Friday, added swastikas around the last names of some Nazis and white supremacist groups but did not mark other famous anti-Semites, such as Nazi leaders Adolf Eichmann and Joseph Goebbels. Sieradski explained that the focus of the extension was White supremacists who were involved in online harassment.
"This is really about folks who are harassing other folks online. The 'real' Nazis are dead," he said.
Those on the application's list of names include followers of two major white supremacist Twitter accounts, as well as groups identified as "anti-Semitic" by civil rights organizations, Sieradski said.
The poorly-coded app garnered some derisive — and very amusing — reviews:
"Great app, a must have for networking. I never knew how many others shared my bigoted racist opinions. However, 0 stars because I haven't got on the list yet."
"Doesn't work, static list that can't be updated, and a trash app all around. Can't even identify actual Nazis." RESPONSE: "You don't need an extension for that… you'll know its a Nazi when it kills der untermensch with a single Luger shot to the head."
"This extension is fantastic! Before, I could only find other fascists in an ad hoc, piecemeal fashion. Now, I have a directory and have already connected with dozens of like-minded individuals. Thanks so much!" RESPONSE: "Me too! Thanks for pointing out how many of us there are everywhere."
"Identifies Winston Smith, the character from 1984 as a Nazi. What?"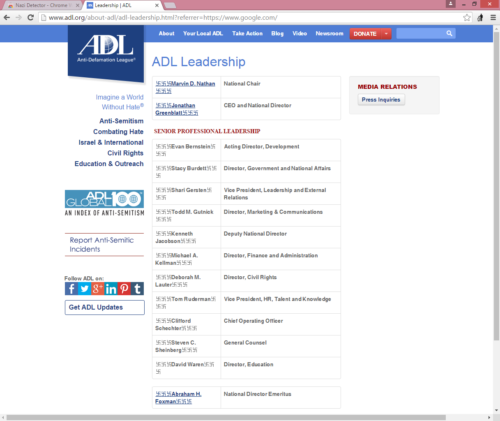 "WARNING WARNING WARNING THIS IS JUST THE COINCIDENCE DETECTOR WITH SWASTIKAS!!! IT MARKED MULTIPLE PROMINENT JEWISH PEOPLE AS NAZIS!!!! See: http://i.imgur.com/aKqeqBF.png DO NOT INSTALL THIS APP IS EXTREMELY ANTISEMITIC!!!!!!!!!!"
"Didn't even identify Hitler. Good job, (((The Self Agency LLC)))."
* * *
Source: Jewish Daily Forward and National Vanguard correspondents