Facebook, Twitter, Google, Microsoft Vow to Deal With "Hate Speech" Within 24 Hours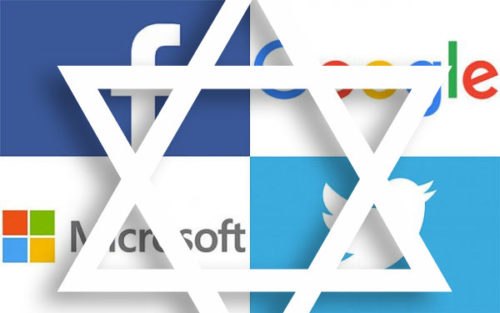 Tech giants all unveil new uniform, international "code of conduct" for Internet users, promise to instantly respond to Jewish complaints of "hate"; "Terror attacks show urgent need to address hate posts," says EU in statement that might as well have been, and probably was, written by their Jewish superiors.
Introductory Note by John I. Johnson: I wish Whites, including racialists, fully understood how enormously important these little-publicized Jewish/government actions are. Everything that's happening now is traceable to mass media control, the education system, surveillance, targeted oppression, and the suppression of freedom of speech and democracy. But this reality does not sink in for some reason. Perhaps it's because victims are so accustomed to losing and not having a genuine say in, really, anything, but certainly not in policies (or even discussions) involving anti-White racism and genocide.
Anyway, under these conditions, no meaningful opposition to population destruction is possible. It can't happen. This induced social cancer is killing the White race — right now, not 100 years from now, 40 years from now, or whatever. This is it. They are deliberately and systematically destroying and replacing the White people of Europe, North America . . . of every European population in the world without exception.
Why don't people see this? Why can't the vaunted IQ kick in? Nobody's serious. Nobody cares. Nobody reacts. It is eerie.
* * *
U.S. INTERNET giants Facebook Inc., Twitter Inc., Google and Microsoft Corp. pledged to tackle online hate speech in less than 24 hours as part of a joint commitment with the European Union to combat the use of social media by terrorists.
Beyond national laws that criminalize hate speech, there is a need to ensure such activity by Internet users is "expeditiously reviewed by online intermediaries and social media platforms, upon receipt of a valid notification, in an appropriate time-frame," the companies and the European Commission said in a joint statement on Tuesday.
The code of conduct arrives as Europe comes to terms with the bloody attacks in Paris and Brussels by Islamic State, which has used the Web and social media to spread its message of hate against its enemies. The companies said it remains a "challenge" to strike the right balance between freedom of expression and hate speech in the self-generated content on online platforms.
"We remain committed to letting the Tweets flow," said Twitter's head of public policy for Europe, Karen White, in the statement. "However, there is a clear distinction between freedom of expression and conduct that incites violence and hate."
Platforms Sued
A French Jewish youth group, UEJF, sued Twitter, Facebook and Google in Paris this month over how they monitor hate speech on the web. In the course of about six weeks in April and May, members of French anti-discrimination groups flagged unambiguous hate speech that they said promoted racism, homophobia or anti-Semitism. More than 90 percent of the posts pointed out to Twitter and YouTube remained online within 15 days on average following requests for removal, according to the study by UEJF, SOS Racisme and SOS Homophobie.
"With a global community of 1.6 billion people we work hard to balance giving people the power to express themselves whilst ensuring we provide a respectful environment," said Monika Bickert, head of global policy management at Facebook, in the statement. "There's no place for hate speech on Facebook."
* * *
Source: Bloomberg Technology