Chinese-Israeli Tech Collaboration: Who Is More Subtle, Inscrutable, Implacable, and Ruthless?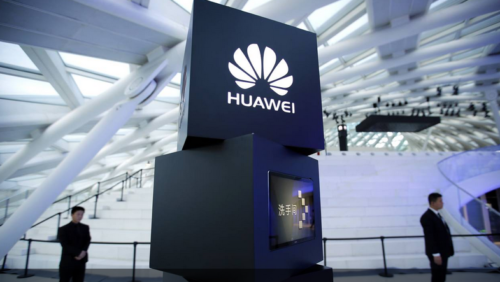 For the past seven years, Huawei Technologies has been developing a range of software and equipment, some potentially sensitive, through an Israel-registered company called Toga Networks, according to former and current employees of both companies.
Note by John I. Johnson: I have a very good idea who's really probing whose "sensitive capabilities." A fat lot of good it will do Red China to give Jews back doors into the hardware and software infrastructure of their security apparatus, hire veterans of Israeli intelligence, et cetera.
Smart move. What geniuses. The Jews will cut the throats of the Chinese faster than they finished off the West.
* * *
HUAWEI TECHNOLOGIES CO., the Chinese telecommunications firm that has barreled into emerging markets around the world, has been cautious about its footprint here.
For the past seven years, Huawei has been developing technologies, some potentially sensitive, through a locally registered company called Toga Networks Ltd., according to former and current employees of both companies.
At Toga, Israeli engineers are developing a range of software and equipment related to networking, storage and information security, including encryption, said former and current employees of the company. Toga is also developing tools that can help telecommunication providers examine data moving through their routers. This so-called deep-packet inspection technology is typically used to prioritize traffic, such as phone calls over emails, but it can also identify individuals who surf specific websites or use certain keywords in emails.
The work here comes against a backdrop of intense U.S. scrutiny over Israeli technology transfers to China, and concern that some products developed here could be used to eavesdrop on global internet and telecom users.
While Toga hasn't advertised its links to Huawei, it doesn't exactly hide the relationship. Several patents submitted by Huawei since 2013, some relating to the deep-packet inspection algorithms, have Toga employees listed as inventors, according to a former Toga employee and public patent records.
Also, Toga is identified as a unit of Huawei by Israeli government documents, Israeli officials, and current and former Toga employees.
"Toga Networks is a private company. It doesn't provide to the public any information concerning either its business activities or its connections with clients," Toga said in an emailed response.
Huawei said Toga Networks isn't a subsidiary of the company, but that it collaborates with research partners. "Huawei believes open innovation is the key to the development of the industry, so we cooperate with local partners to better leverage local talents and offer the most innovative and leading solutions to customers all over the world," a company spokesman said in an email.
The tech company rejected the idea of opening an official research center here because an Israeli arm was seen as limiting the company's business outreach to Arab countries, according to current and former employees.
Huawei's networking equipment has been effectively shut out of the U.S. market following a 2012 congressional report which cited concerns that it could be used for Chinese espionage. The company has disputed such claims.
Further, the increasing involvement of Chinese companies in the development of sensitive technology inside Israel has raised some concerns in U.S. security circles, according to a former Israeli official familiar with the matter. The U.S. Department of Defense declined to comment.
Several high-profile Chinese companies such as Alibaba Group Holding Ltd, Baidu Inc. and Xiaomi Corp. have built links with Israel's technology sector in recent years. The firms, over the years, have invested in Israel-based venture funds and startups.
Avi Hasson, the chief scientist at the Israeli Ministry of Economy, said that the ministry wants to encourage further involvement of Chinese entities in the local industry.
"We view favorably the influx of Chinese investments in the Israeli technology industry. Asian markets are part of the future of this industry, and it is almost impossible to sell in these markets without a local partner," Mr. Hasson said in an email.
The worries around the influx of "nontraditional investors" like the Chinese in Israel center on access to technologies that can be applied for military uses, says Oded Eran, a senior researcher fellow at Israel's Institute for National Security Studies and a former deputy director general of the Israeli Ministry of Foreign Affairs. Companies that employ veterans of technological units in the Israeli army, such as unit 8200 — the country's equivalent of the National Security Agency — are one point of access to such technologies, Mr. Oded said.
"These veterans go and work for commercial companies but there are no walls in their mind separating what they did in military service from what they do in civilian life," he added.
The U.S. and Israel have clashed over technology transfers to China before. In 2000, the U.S. stopped Israel from selling China an advanced airborne warning system called Phalcon, leading to a diplomatic rift between Israel and China. In 2004, the Pentagon stepped in again, attempting to block the return of several Israeli-made unmanned combat aerial vehicles China had sent to Israel for maintenance and possible upgrades.
The next year, the U.S. urged Israel to sever arms trade with China — even going as far as subjecting nonmilitary-technology transfers to China to U.S. screening — and to impose stricter export control mechanisms. Israel agreed. "The U.S. supports Israel, and we work with them closely. When it comes to China, the Americans expect us to side with U.S.," one former Israeli Ministry of Defense official said.
Today, technology ties between Israel and China continue but through trade and academic channels. China was the third-largest export destination for Israeli companies in 2015, after the U.S. and the U.K.
Many of the engineers hired at Toga served in elite technology army units, developing interception and encryption technologies. Terms offered by Toga to top engineers were lucrative — at times double the market standard.
More than 200 engineers at Toga Networks are now working for Huawei, according to current and former employees at the company.
* * *
Source: John I. Johnson and the Wall Street Journal