Numbers and Sources are So Racist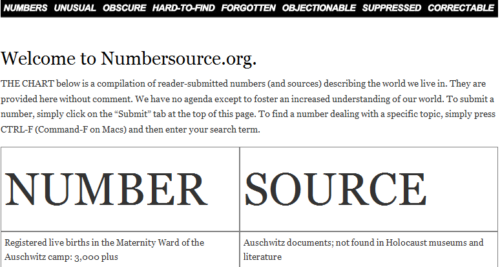 THERE IS an interesting and somewhat strange place on the Internet I have found, called numbersource.org. Using the tagline "numbers describe reality," all it is is a list of numbers — any kind of number or statistic that can be expressed in numbers — and its source. Hence the name "numbersource.org." And you can add to the list that's displayed on the page. It's fun to add politically incorrect statistics to the list!
Here's the list that appears on the front page of the site so far (the list will probably grow over time, so check it out by visiting the site directly — and add to the list yourself if you're so inspired):
THE CHART below is a compilation of reader-submitted numbers (and sources) describing the world we live in. They are provided here without comment. We have no agenda except to foster an increased understanding of our world. To submit a number, simply click on the "Submit" tab at the top of this page. To find a number dealing with a specific topic, simply press CTRL-F (Command-F on Macs) and then enter your search term.
| number | source |
| --- | --- |
| Registered live births in the Maternity Ward of the Auschwitz camp: 3,000 plus | Auschwitz documents; not found in Holocaust museums and literature |
| International Red Cross inspections of Auschwitz per year: 12 | International Red Cross; not found in Holocaust museums and literature |
| Inmates' paintings and drawings in the Auschwitz Museum, in storage (not exhibited): 1470 | Auschwitz Museum; not found in Holocaust museums and literature |
| Prisoners in the Bastille when stormed in 1789 : 7 | Time Magazine July 1989; the prisoners were ordinary criminals |
| Percent Jews in the German Communist Party before Hitler's election: 78% | The Myth of German Villainy by Benton L. Bradberry |
| Swimming pools in the Auschwitz inmates' living quarters area: 1 | Auschwitz photo; not found in Holocaust museums and literature |
| German flying aces WW2 total wartime victories: 24,050 | https://en.wikipedia.org/wiki/List_of_World_War_II_flying_aces |
| Combined British and US flying aces total wartime victories: 434 | https://en.wikipedia.org/wiki/List_of_World_War_II_flying_aces |
| Soviet flying aces WW2 total wartime victories: 845 | https://en.wikipedia.org/wiki/List_of_World_War_II_flying_aces |
| Number of German flying aces WW2: 1221 | https://en.wikipedia.org/wiki/List_of_World_War_II_flying_aces |
| Number of Combined British and US flying aces WW2 : 859 | https://en.wikipedia.org/wiki/List_of_World_War_II_flying_aces |
| Number of Soviet flying aces WW2: 21 | https://en.wikipedia.org/wiki/List_of_World_War_II_flying_aces |
| Highest number of orchestras/music groups in Auschwitz 1942-1945: 16 | Auschwitz documents; not found in Holocaust museums and literature |
| Theater buildings in Auschwitz: 1 | Auschwitz documents; not found in Holocaust museums and literature |
| Number of Muslims in France as of early 2016: 6,130,000; 9.6% of the population | Muslim Population in the World, http://www.muslimpopulation.com/Europe/ |
| Percentage of US Whites with IQs over 115: 16% | Black-White IQ Differences by Daniel Seligman, http://library.flawlesslogic.com/iq.htm |
| Percentage of US Blacks with IQs over 115: 2.5% | Black-White IQ Differences by Daniel Seligman, http://library.flawlesslogic.com/iq.htm |
| Size of the nation of France: 210,026 square miles | Nationmaster: Countries compared by geography, http://www.nationmaster.com/country-info/stats/Geography/Land-area/Square-miles |
| Size of the Jewish Pale of Settlement in Czarist Russia: 472,590 square miles | The Yivo Encyclopedia of Jews in Eastern Europe, http://www.yivoencyclopedia.org/article.aspx/pale_of_settlement |
| Number of cities/metropolitan areas with population larger than 10 million: 34 | World Atlas, http://www.worldatlas.com/citypops.htm |
* * *
Source: Numbersource.org