No State Charges or Jail Time for Homosexual Judge Who Demanded Sex from Defendants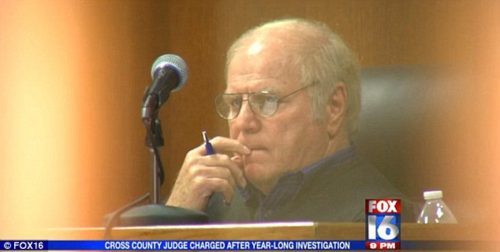 It is not known if any federal charges will be forthcoming; some people are more equal than others.
AN ARKANSAS judge who allegedly coerced male defendants into having sex with him in exchange for sentence reductions has resigned after thousands of photos showing naked young men in his home, some being paddled, were found by investigators. (ILLUSTRATION: Resigned: Cross County District Judge Joe Boeckmann resigned Monday after an investigation uncovered 4,550 photos on his PCs, some showing naked young men inside his home — some of them being paddled.)
Part-time Cross County District Judge Joe Boeckmann resigned Monday, authorities said, adding that he had promised never to return to public office. In doing so, the investigation was closed.
The move came after David Sachar, executive director of the commission investigating the judge, told Boeckmann and his attorney that investigators had found around 4,550 photos on his PCs, KARK News reported.
According to documents filed by the commission, which has been investigating Boeckmann since November, the photos show naked young men inside and outside the judge's home, some of whom had been paddled.
The judge has been told not to destroy the paddle seen in the pictures.
Further allegations say that the judge had paid the men seen in the photos while they were on his docket.
It is alleged that the judge had offered to pay defendants' attorney fees in exchange for sex, The Associated Press said.
Sachar told Boeckmann that around 1,050 images from his computers had been provided to investigators in the first instance, and that a further 3,400 were expected to follow.
And, KARK wrote, documents filed Friday say investigators believe that the judge's dubious acts stretched back to 30 years ago, when he was a deputy prosecuting attorney and private attorney in Arkansas.
Several teens were quoted in the documents saying their charges were dismissed after Boeckmann, then the deputy prosecuting attorney, had taken photographs of them.
One alleged victim claimed he had been made to strip and wear handcuffs in the courtroom while Boeckmann took photos of him. At the end of the shoot, he says, Boeckmann told him 'Case dismissed.'
In his letter to Boeckmann and his lawyer, Sachar gave the judge the opportunity to resign, which he duly took. In his resignation letter, the judge also promised never to work for the state of Arkansas again.
'I further promise to never seek employment as a local, county or state employee or public servant in the State of Arkansas,' he wrote. 'I understand the [commission] will use all legal power it finds necessary to enforce this agreement.'
Boeckmann also wrote that the resignation should result in the dismissal of the commission's investigation.
However, Sachar previously said he had turned part of the investigation file over to prosecutors to determine if Boeckmann would be criminally charged.
And KARK confirmed that a federal investigation is underway, although a gag order placed by Circuit Judge Chris Morledge in August 2015 means that those involved are forbidden to speak to the media on the matter.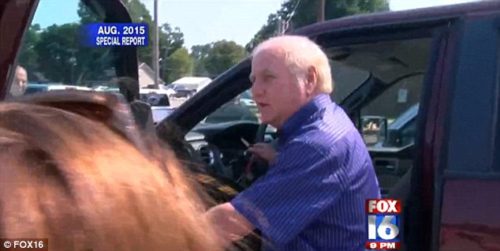 The original civil investigation, which began in November last year, said Boeckmann showed preferential treatment to white men and allowed sentencing not recorded on court dockets, including picking up trash at his home.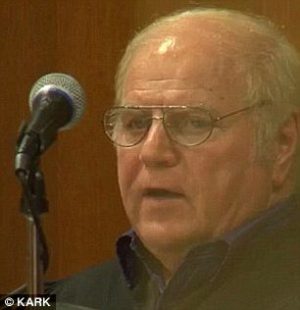 It also accused him of taking inappropriate photographs of defendants during those punishments and later coercing some of them into sexual acts in return for paying their attorney fees.
He's also accused of promising to reduce sentences in exchange for sex, ABC 7 said.
The investigation began after an Arkansas Department of Human Services investigator alleged that Boeckmann had reduced the bond against a defendant while he was in a long-term relationship with her male relative.
Sachar said that the Arkansas Supreme Court had appointed a special judge to hear Boeckmann's cases during the investigation.
Jeff Rosenzweig, Boeckmann's attorney, says he will not make any further comments beyond his resignation letter to the commission.
Boeckmann had previously denied all the charges made against him.
* * *
Source: Daily Mail