New Jersey: Jews Have Been Funneling Public Money to Jewish Schools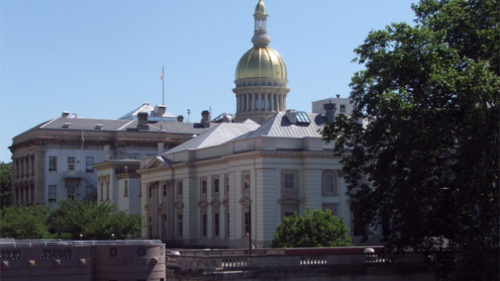 High Court says illegal practice must stop; Jews have stolen over $10 million; small grant to Princeton Theological Seminary was "cover" for Jewish theft.
A COURT has ruled that New Jersey cannot give $11 million in grants to two religious schools. (ILLUSTRATION: New Jersey Statehouse — Trenton, NJ)
The state appeals court ruled Thursday that the $10.6 million grant to Beth Medrash Govoha yeshiva in Lakewood and $645,323 to the Princeton Theological Seminary are unconstitutional.
The $10.6 million to Beth Medrash Govoha was granted for a library, research center and new academic space in an existing building. Princeton Theological Seminary was granted the money to upgrade library information technology and a training room and to remodel a conference room.
The American Civil Liberties Union and Americans United for Separation of Church and State had challenged the grants, made as part of $1.3 billion in grants in April 2013.
The lawsuit claimed the grants violated the state constitution's prohibitions against using taxpayer money for places of worship and giving preference to a religion, as well as violate its stipulation that public money be used for public purposes. In addition, the suit stated the grant awarded to the Beth Medrash Govoha, an all-male Talmudic studies center, violates state law against discrimination based on gender.
New Jersey officials argued that the grants were okay because they were meant to pay for buildings and equipment, not worship or ministries.
Thursday's ruling sets a precedent for New Jersey when it comes to the determining what institutions fall under the qualifications of a "ministry."
The separation between church and state is occasionally blurred, especially with funding for parochial schools, as New Jersey often provides aid in the form of textbooks and busing for religious institutions.
But this bedrock provision is clear: The state's constitution forbids subsidizing the building of facilities where religious instruction takes place.
So the ACLU sued to block the Christie Administration from awarding $11 million to a rabbinical school and a ministry in 2013. And while its case was based largely on sex discrimination, an appeals court last week voided both grants because these are sectarian institutions, not liberal arts schools with some religious instruction.
Most of the money was to fund capital projects at Beth Medrash Gohova, the large yeshiva in Lakewood. The fact that the area community can deliver a large bloc of Orthodox votes seemed more than coincidental: The community endorsed Gov. Christie when he ran for reelection in 2013.
This is a good starting point: Tax dollars shouldn't go to schools that discriminate on religious grounds.
Indeed, the administration asked for this defeat. When a bond referendum raised $1.3 billion for state colleges that year, the Secretary of Higher Education went before the Senate Budget Committee and would not explain allocation criteria. It was information we were not entitled to have, Christie figured.
* * *
Source: LostMessiah