Lord of the Rings Star Elijah Wood: Hollywood Is Gripped by a Powerful Pedophile Ring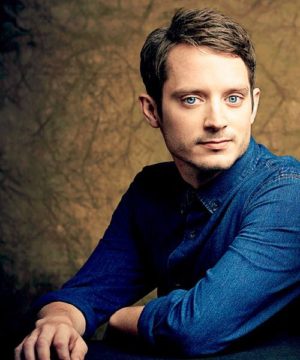 The Jewish-dominated film industry is said to be sheltering around "100 active abusers" and is covering up a seedy underbelly full of predatory "vipers."
ELIJAH WOOD, 35, (pictured) claims that Hollywood has its own Jimmy Savile scandal and believes young actors are being sexually abused on a large scale in the industry; Wood told The Sunday Times that the child abuse is 'probably still happening'. Shocking allegations that top Hollywood figures have been protecting child abusers have circulated widely in recent years.
Several industry figures have been convicted following claims of sex abuse and former child actors — including The Goonies actor Corey Feldman, 44 — claimed he was 'surrounded' by molesters when he was a teenager.
Anne Henry, co-founder of Bizparentz — a group set up to help young actors –said that Tinseltown is currently sheltering around '100 active abusers'.
Wood, who stars in his new film The Trust told The Sunday Times that his mother had protected him from abuse when he first arrived in Hollywood, aged eight.
But he said: 'I've been led down dark paths to realise that these things are probably still happening.'
The actor, who played Frodo Baggins in Lord of the Rings, believes that other actors remain in danger.
He added: 'If you're innocent, you have very little knowledge of the world and you want to succeed. People with parasitic interests will see you as their prey. What upsets me about these situations is that the victims can't speak as loudly as the people in power.'
Wood was talking to the Sunday Times about Jimmy Savile, a British entertainer who sexually abused dozens of victims over five decades. He was knighted by the Queen and his crimes were only revealed after his death, despite years of rumor and innuendo and led to allegations of a cover-up by government figures and broadcasting chiefs.
Henry believes that around three quarters of child actors that 'went off the rails' later in their life had been abused in Hollywood. She said: 'This problem has been endemic in Hollywood for a long time and it's finally coming to light. Very bad people are still working here, protected by their friends.'
In the last 10 years, several wealthy and significant people involved in the industry have been convicted. Some have left prison and returned to Hollywood and continued to work with children. For one example, Martin Weiss, a Jewish talent manager who worked with child actors, was convicted of two counts of engaging in lewd acts with a child under fourteen, yet was sentenced only to one year in county jail and five years of probation.
Wood, who now knows he was lucky to avoid being abused, compared the allegations in Hollywood to the claims linked to Savile following his death in October 2011.
Wood said: 'You all grew up with Savile – Jesus, it must have been devastating. Clearly something major was going on in Hollywood. It was all organised. There are a lot of vipers in this industry. There is a darkness in the underbelly — if you can imagine it, it's probably happened.' 
Feldman, who was one of the biggest child stars in the 1980s, was abused when he was a young actor.
He said: 'The No 1 problem in Hollywood was and is — and always will be — pedophilia.'
Other child actors were reportedly told by adults that it was perfectly normal for older men and younger boys in the industry to have sexual relations.
Feldman told a British tabloid four years ago: 'When I was 14 and 15, things were happening to me. These older men were leching around me like vultures.'
He went on to suffer with alcoholism, mental health problems and became addicted to drugs.
His friend, Corey Haim, another child actor, died of pneumonia aged 38 in 2010. Feldman claims a 'Hollywood mogul' is to blame for his friend's death.
He said abusers are still working and are some of the richest and most powerful people in the business.
It was also claimed that a number of pool parties were held in Los Angeles during the late 1990s — primarily hosted by millionaire businessman Marc Collins-Rector.
At these parties, Collins-Rector and other men are said to have sexually assaulted teenage boys, according to lawsuits filed in 2000 and 2014.
* * *
Source: Mail Online