Introducing Lana Williams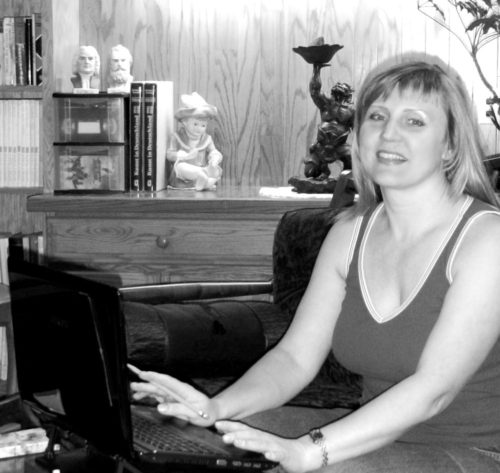 SVETLANA "Lana" Williams (pictured), wife of National Alliance Chairman Will Williams, is the backbone of the National Alliance membership office in Tennessee. Lana processes all mail, handles business email inquiries, and performs data entry — keeping up with members' dues, bank deposits, paying bills, etc.
Lana is a graduate of Moscow University and has training as an accountant, so knows how to keep a proper general ledger. Lana is very organized — unlike the Chairman who is usually dealing with the larger issues of the National Alliance. Together, and with an occasional helper, they stuff, stamp, seal and mail the monthly National Alliance BULLETINs at the end of each month — and neither receives a salary for any of this work, by the way.
It was through Lana's initiative that we undertook the mailing of nearly 2,500 introductory National Alliance BULLETINs to addresses in an unorganized database of former members, customers, and supporters. That mailing has already netted several dozen former members rejoining. More than six hundred envelopes from that mass First Class mailing were returned to us as undeliverable for one reason or another; people die, people move.
Lana took the initiative again to track the people whose BULLETINs were returned by using Internet services like White Pages and People Finder. It's remarkable how many people can be located this way, since old addresses are often listed, which can then be cross-checked against the addresses in the old database. Re-mailing the BULLETINs to former members who had moved to new addresses that Lana discovered has netted enough additional members rejoining our Alliance to have made all of that effort worthwhile.
Thank you, Lana, for all you do!
* * *
Source: National Alliance BULLETIN