Former Staffers: Rightist and Conservative News Suppressed by Zuckerberg's Facebook
If mere conservative sites are blacklisted, you may be sure that even more severe censorship of White sites is taking place — including actions against those who post links and articles from them.
FACEBOOK deliberately suppresses conservative news from its 'trending' section, former staffers claim. (ILLUSTRATION: Bias? Former editors of Facebook's news feed claim staff — or, 'news curators' — 'routinely suppressed news stories of interest to conservative readers.')
The social network has never specified how trending articles are selected, but long implied it was generated by an impartial algorithm.
However, former editors of the news feed claim staff — or, 'news curators' — 'routinely suppressed news stories of interest to conservative readers.'
They were told to 'inject' certain stories to boost them on the list, regardless of their popularity, the staffers claim.
And the allegedly left-leaning team are given free rein to bury conservative articles if they have a bias against them, they said.
The bombshell claims were made in a series of anonymous interviews former Facebook staff gave to tech news site Gizmodo on Monday.
One staffer, speaking on the condition of anonymity, told the site: 'I'd come on shift and I'd discover that CPAC or Mitt Romney or Glenn Beck or popular conservative topics wouldn't be trending because either the curator didn't recognize the news topic or it was like they had a bias against Ted Cruz.'
On Monday, Facebook hit back at the allegations insisting there are 'guidelines' to prevent bias, laying blame on employees.
And other staffers told Gizmodo they had not witnessed evidence of bias.
The story of Facebook's alleged bias has since appeared on the trending news feed on the right hand side of users' homepage.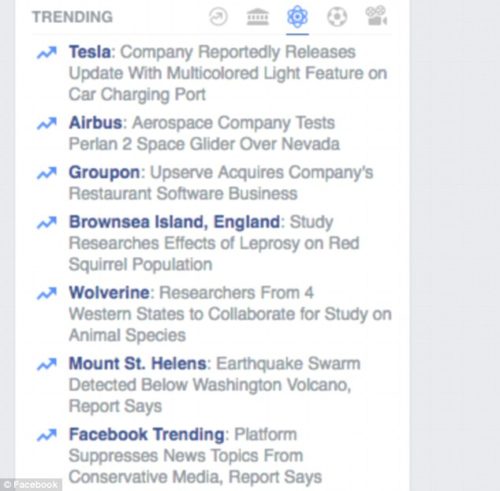 The news feed was launched in 2014. It promotes 10 stories to its 167 million users, branding them as must-read topics.
On Monday Facebook hit back at the claims, saying: 'We take allegations of bias very seriously. Facebook is a platform for people and perspectives from across the political spectrum.'
The statement added: 'There are rigorous guidelines in place for the review team to ensure consistency and neutrality. These guidelines do not permit the suppression of political perspectives.
'Nor do they permit the prioritization of one viewpoint over another or one news outlet over another. These guidelines do not prohibit any news outlet from appearing in Trending Topics.'
* * *
Source: Daily Mail