Two Important Thought Experiments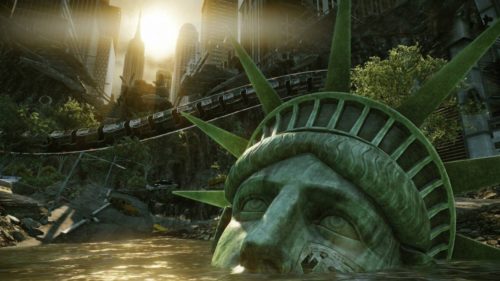 by Ivan Shatov
I HAVE ASKED many of my friends to perform these thought experiments: First, let us say that a dreadful disease has killed anyone with more than a 15 per cent. European genome.
Death comes quickly — in a matter of hours. Blacks are left to their own devices. How long until utter anarchy prevails in areas where they dominate? Most people err far, far on the side of optimism.
How long until fresh water stops flowing? At most until the automated systems fail: two to three days.
How long until the sewage treatment facilities break down? The same.
The breakdown of law and order would be immediate, with rampaging and pillaging beginning immediately upon the dim realization that all was for the taking.
Law abiding Blacks? They would be swamped by the lawless and would themselves descend to lawlessness very quickly.
The cessation of TV and radio broadcasts? — also, almost immediate. At most three to five days.
Greater than two thirds of all the remaining Blacks would be dead within six to twelve months. At the end of five years fewer than 5 per cent. would remain.
Africa would descend into the most utterly vicious and hellish existence imaginable with its population plunging over 90 per cent. as well.
Now, let us consider an equally — and perhaps much more — valuable thought experiment: What would happen if everyone with less than a 95% European genome were killed off by a dreadful disease?
Every city in America would become a garden spot. Europe would flourish as never before. Africa would be repopulated by Europeans and would become one of the greatest places on Earth to live. Crime would fall by over 85 per cent.
Education would once again become a true meritocracy — as would all fields of endeavor, including most importantly the STEM fields of science, technology, engineering and mathematics.
Music and art would improve dramatically and reached undreamed-of heights. Europeans, relieved of the odious influence of the low-IQ brown parasites of the world — and the high-IQ predatory parasites — would once again direct their energies more productively and produce wealth and power beyond imagining.
Taxes would fall by over 75 per cent. Prison populations would fall by 80 per cent. Europeans would regain their confidence and begin reproducing again. And since the Jews are not White, we would not be hamstrung by their pernicious influences. We would no longer be saddled by "the leaven of the Pharisees."
* * *
Source: The Irish Savant blog