The People and the Law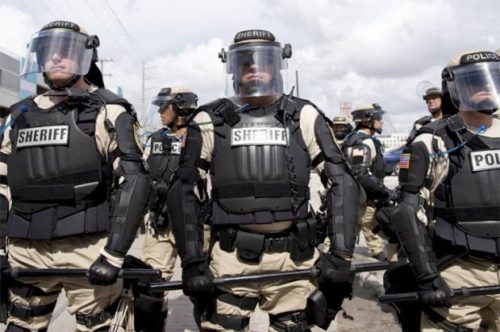 by David Sims
I'VE NOTHING against police officers. Policing is a necessary social function.
But, having said that, there has been a conspicuous rise in the proportion of bad cops. That is a fact, however unsavory it might be. Sweeping it under the rug will only make matters worse.
I'd rather that there be two civilian murderers on the loose than one bad cop on the job. Why? Because the established authority won't punish civilians who use lethal force to defend themselves from an attack by ordinary murderers, but it will swing the hammer heavily on those who defend themselves from an attack by bad cops.
It is a very good question whether society is better off with a professional police force, as opposed to making the police function universal: something that we all would do when we see evildoers doing evil.
Is police power better centralized, or is it better that it be non-centralized? Centralized, we gain the benefit of specialization of labor and the elite skills that it might offer, but we also gain the risks of institutional treason and official corruption, which a dictator might someday use as convenient tools for his rise to power. Non-centralized, we lose the benefit of specialization in the fight against evil, but, as long as good people far outnumber bad people, we gain the power of sheer numbers, and we end the possibility that the policing function could be a tool for the promotion of dictatorship.
Also, I've heard from police officers the phrase: "The law is the law is the law," meaning that regardless of what people might want or need, the law must be conformed to. The law is holy. The law is God. Mere mortals must obey.
I've a different idea. I think that the law was made for man, and not man for the law. I think that legislation, like any other human activity, is something that can be done either well or poorly. And if the laws are poorly made, then the people who obey them will live poor lives. And the only thing the state can do to compel obedience to bad laws is by inflicting such suffering on the disobedient that their lives would be made thereby even poorer than are those of the obedient. Obeying the law is then the lesser of two evils, but it remains an evil.
Instead of blaming "criminals" for breaking bad laws, laws that generate more problems that they solve, I approve of their "crimes." When a law, or some combination of laws, create a bad situation, and if a lawful remedy cannot be found speedily, then an unlawful one, if it is effective, can be better than no remedy at all.
* * *
Source: Author