SPLC — Great "Wall of Tolerance" Scam
LAST OCTOBER, we first noted that one of the Southern Poverty Law Center's most cynical fundraising gimmicks, its long-running "Stand Strong Against Hate" map was conspicuously absent from the company's web site.
The gimmick was elegant in its simplicity. By simply clicking a link on the SPLC web site you could demonstrate your commitment to "stand strong against hate," and to "stop the racist backlash from infecting your community."
In return for nothing more than your name, address and email address, you fought the good fight by becoming a digital pinhead on an interactive map. By moving the cursor over your pinhead your first name and last initial would pop up magically.
"Bob J., Chicago"
How exactly this "stood up to hate" was never explained. In the meantime, your personal contact information went into the SPLC's massive database, where it would be added to the company's mailing list and turned over to their growing team of professional fundraisers.
As mentioned, it was a simple but effective gag, and no doubt brought in a lot of new donors and donor dollars, but the company seems to have retired it in 2015.
Today we stumbled across a parallel SPLC fundraising ploy that is every bit as simplistic as the "Stand Strong Against Hate" ploy, but takes the game to a whole higher level.
In this morning's RSS roundup of articles about the SPLC was a press release written by one of those "exclusive" public relations outfits that target individuals, usually professionals, offering to polish up and pad out their resumés, in exchange for an exclusive fee.
This particular gentleman is an attorney, practicing law somewhere Down South. We're going to change his name here to protect his identity, but the final line of his press release reads:
"In 2005, Mr. Smith was awarded the Wall of Tolerance Certificate by the Southern Poverty Law Center."
We are embarrassed to admit that, even after "tracking" and studying all things SPLC for the past seven years, we had never heard of the company's "Wall of Tolerance" and had to learn more about it.
Our first thought, quite naturally, was that, like most nonprofit fundraising ventures, which might feature a "Golden Circle" or "Leadership Club" tier for their top donors, the SPLC was simply recognizing Mr. Smith for handing over the big bucks year after year.
But we were wrong…
According to the SPLC website:
"The Wall of Tolerance digitally displays the names of more than half a million people who have pledged to take a stand against hate and work for justice and tolerance in their daily lives. Their names flow continuously down the 20-by-40 foot wall within the Civil Rights Memorial Center in Montgomery, Alabama."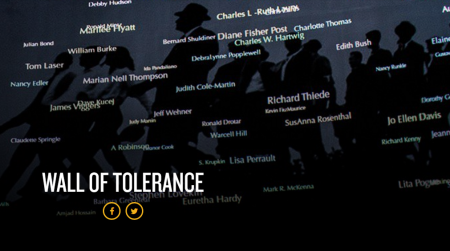 In order to get your name on this auspicious digital billboard you must first swear a solemn oath:
By placing my name on the Wall of Tolerance, I pledge to take a stand against hate, injustice and intolerance. I will work in my daily life for justice, equality and human rights — the ideals for which the Civil Rights martyrs died.
Half a million people have taken this pledge to honor "the ideals for which the Civil Rights martyrs died," or did they?
While searching for information about the Wall of Tolerance we came across this blog post on the Democratic Underground website in which Mr. Joshua Allenberg expressed surprise to have received the same certificate of appreciation and had his name added to the wall, even though he'd never heard of the award and wasn't even sure when, or even if, he had made a contribution to the SPLC. If he had, it wasn't much.
At any rate, he never took a pledge, solemn or otherwise. Maybe getting on the wall is easier than it seems.
I just got an envelope in the mail addressed from author Toni Morrison. Enclosed was a form letter, a solicitation for a donation, and a Certificate of Appreciation. Now I typically donate 20 bucks here and there from organizations who send me mail, and I kind of lose track. So, what I got is:

Certificate of Appreciation
presented to
Joshua Allenberg

In recognition of an important contribution to the ongoing fight against hatred and intolerance in America. The name shown above will be added to the Wall of Tolerance in Montgomery, Alabama, to provide inspiration to all of those who choose to take a stand against hatred.

Thank you for taking a stand.

Morris Dees, Founder
Southern Poverty Law Center

Does anybody know where this came from?
The answer was swift in coming when several other posters figured out that the SPLC got Mr. Allenberg's name from a mailing list purchased from the American Civil Liberties Union (ACLU). Mr. Allenberg's certificate was signed by SPLC founder Morris Dees and author Toni Morrison. Earlier iterations of the document were co-signed by Rosa Parks.
The certificates are accompanied by several sheets of return address stickers bearing the honoree's name and address, one of the oldest fundraising gimmicks in the book, but still quite effective among that segment of the population that still sends a lot of snail mail, i.e., the elderly.
Directly below Mr. Allenberg's web post was a piece by SOFII, the Showcase of Fundraising Innovation and Inspiration, an organization that rates and reviews fundraising pitches. Here are a few of the more telling comments about the Wall of Tolerance campaign:
SOFII's view:

The Southern Poverty Law Center, who launched this campaign, is a hugely impressive organisation with a long and well-deserved reputation for effective donor development.

Though we don't have the results, we think we can presume that this direct mail capital appeal must have worked really very well.
Merits:

This is one of the most moving and long-lasting donor involvement campaigns in the USA and represents some of the best that the direct marketer's art can produce.
"Some of the best that the direct marketer's art can produce." And why not, the man behind this PR campaign is none other than Morris Dees, who made millions in the direct mail-order business in the 1960s before opening the SPLC.
In 1998, Dees was inducted into the Direct Marketing Association's "Hall of Fame," not for his civil rights work, but rather for his prowess in direct mail fundraising. Mr. Dees is an undisputed master of the sales pitch.
We have to admit that it's impressive to see and definitely as fine an example of a master-level fundraising tool as we've ever seen, as this short Youtube video demonstrates. You gotta admire the craftsmanship:
While the video notes how people can add their names directly to the wall from SPLC's civil rights theme park, no mention is made of whether one's contact information is a prerequisite for the honor, but if SPLC history is any guide, you can make book on it.
Another direct mail fundraising industry web site, DonorPowerBlog.com had this to say about the Wall of Tolerance "donor acquisition kit":
"Can you overdo recognition of a donor? I don't think so. There's a donor acquisition kit out there that tries."
One final example of just how cynical this marketing ploy is was demonstrated by one other web posting in our search results. Marcus Epstein posted on the VDARE website that he too had been honored by the SPLC for his "important contribution in the ongoing fight against hatred and intolerance in America."
Not only does the SPLC consider the VDARE website so heinous that it deserves its own page on the company's website, but Mr. Epstein himself, that great benefactor and paragon in the "ongoing fight against hatred" was found worthy of an entire article by the SPLC's own Heidi Beirich, for allegedly being an arch-racist, and yet he is eminently qualified to be enshrined for all time on the company's Wall of Tolerance.
Apparently anyone with a postal address can receive a "Wall of Tolerance" certificate and get their name on the electronic billboard in the hope that they will make that crucial first donation.
So much for pledging to support the "ideals for which the Civil Rights martyrs died."
What an exclusive honor.
 * * *