Republican Kingmaker Sheldon Adelson's Chinese Connections are Crumbling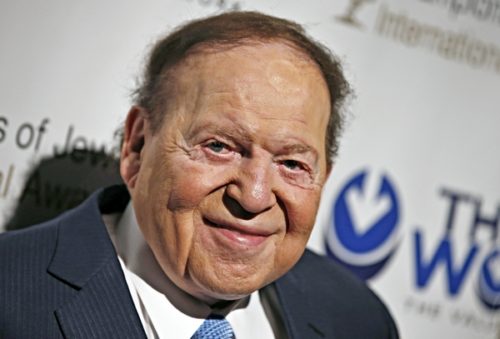 SHELDON ADELSON (pictured), a Jewish oligarch widely regarded as the de facto owner of the Republican party — and who is "too big to fail" in more ways than one — is now being hit hard by the continuing Chinese Communist Party (CCP) investigations into massive corruption in that country.
As one source put it, "Corruption in China is one of Adelson's big revenue sources. Adelson is like an alchemist: He can turn corruption in China into corruption in the American presidential elections (his major donations center around the presidential elections, and all the Republican presidential candidates — including Trump — make their pilgrimages to Adelson's Las Vegas headquarters). Much of the first quarter $200 million decline in profit for Adelson's Sands Corporation is a direct result of his problems in China — since so much of his income comes straight from the CCP.
"Maybe the Chinese did not like his pressure on Iran, their major oil source. Adelson's hysterical Zionist lobbying might cost him $1 billion before the Chinese corruption probe is over. Perhaps coincidentally, he has been a bit more reserved in recent weeks. How do you like those matzos, Sheldon?"
In a recent Wall Street Journal article, "Las Vegas Sands Corp.: Results Fall Short of Expectations," it is reported that "Las Vegas Sands Corp. reported first quarter results below Wall Street expectations, with revenue at Sands China down 76.9% to $1.63 billion. Overall profit was $320.4 million, down from $511.9 million in the year earlier period. Revenue fell 10% to $2.72 billion; analysts had expected revenue of $2.88 billion."
Business Insider headlines scream today that "Las Vegas Sands is getting slaughtered," but blame the decline on "calling a bottom too early." Bloomberg reports that some of Adelson's properties may soon be up for sale:
Gambling tycoon Sheldon Adelson, whose Las Vegas Sands Corp. owns Singapore's landmark Marina Bay Sands, said he's considering selling the casino resort's retail assets after a government-imposed moratorium expires next year.
The company has spoken with potential buyers, Chairman Adelson said in a conference call after Las Vegas-based Sands announced first-quarter results Wednesday.
"We have been approached. We have been talking to people," said Adelson. Capitalization rates at the 800,000 square-foot mall, located in Singapore's prominent downtown district, "are attractive, and we may or may not sell a portion."
The world's largest casino operator missed analysts estimates as profit shrank amid a sharp decline in gambling at Sands China Ltd., its main Macau unit. The Hong Kong-listed company's shares fell 4.9 percent to HK$29.05 by the close of trading Thursday, the lowest level in more than a month, even as Adelson bet Macau would see future improvement from mass-market gamblers and tourists.
Las Vegas Sands "always have thoughts of monetizing anything" except its core casino assets, Adelson said.
* * *
Source: Wall Street Journal, Bloomberg, Business Insider