Jeff Bezos' Blue Origin Succeeds Landing Reusable Rocket for Third Time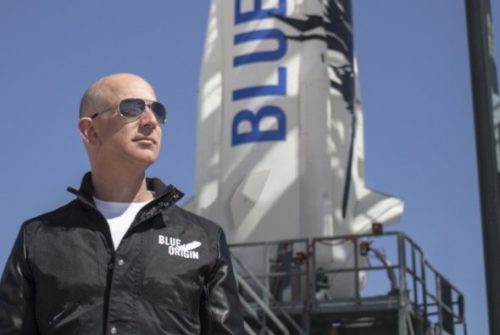 JEFF BEZOS' (pictured) spaceflight company Blue Origin achieved a milestone in its goal of building reusable rocket boosters on Saturday, April 2, when it successfully launched its New Shepard rocket from West Texas, then landed it vertically for the third time.
New Shepard attained an altitude of 339,178 feet (103,381 meters) or 64.2 miles (103.4 km), for the first time traveling beyond the boundary of space, which is 62 miles (100 km) above Earth's surface.
The rocket carried an empty crew capsule, which subsequently separated from it, then parachuted back to Earth.
According to Wikipedia:
The name New Shepard makes reference to the first American astronaut in space, Alan Shepard, one of the original NASA Mercury Seven astronauts, who ascended to space on a suborbital trajectory similar to that planned for New Shepard.
Prototype engine and vehicle flights began in 2006, while full-scale engine development started in the early 2010s and was complete by 2015. Unmanned test flights of the complete New Shepard vehicle (propulsion module and space capsule) began in 2015. Flights with test passengers are planned for no earlier than 2017, with commercial flights to begin as early as 2018.
On 23 November 2015, after reaching 100.5 km (330,000 ft) altitude (outer space), the New Shepard booster successfully performed a powered vertical soft landing, the first time a booster rocket had returned from space to make a successful vertical landing.
Both Blue Origin and rival company SpaceX seek to reduce the expense of spaceflight by pioneering rockets that can be reused instead of discarded.
SpaceX has also conducted successful landings of its rocket booster.
As New Shepard roared into the Texas sky, it was followed by drones that captured images and a video of its ascent, the separation and parachuting of the crew capsule, and the booster's vertical landing.
* * *
Source: Space News and National Vanguard correspondents