Even More Currency Changes Are Coming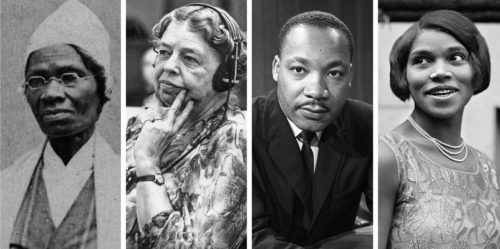 by John I. Johnson
THE SWEEPING, heavy-handed changes in US currency for the purposes of propaganda — the "biggest makeover in a century" — are handed down from on high, just like replacement immigration, anti-White policies, transgenderism, mass surveillance, totalitarian measures, cookie cutter Left-wing political candidates, everything. (ILLUSTRATION: More new faces for United States currency)
One after another after another.
I do not know whether US Treasury Secretary Jacob Lew (often called "Jack"), a Jew, unilaterally dictated these mass alterations — whether or not via consultation with some sort of advisory committee, Jewish community organizations, "civil rights" groups, etc. — but he's the one announcing the changes.
It's one more sign of Jewish hatred and extremism, which keeps ramping up at ferocious speed, with government in total compliance.
From the New York Times:
United States currency will get its biggest makeover in a century, Jackie Calmes reports in the New York Times. The slaveholding Andrew Jackson will be ousted for Harriet Tubman, the former slave and abolitionist, on the $20 bill. And women and civil rights leaders will grace the $5 and $10 notes.
Treasury Secretary Jacob J. Lew reneged on his commitment to make a woman the face of the $10 bill. He decided to keep Alexander Hamilton, the first Treasury secretary whose fan base has been bolstered by a Broadway musical based on his life.
Images of women will be added to the back of both the $10 and the $5 notes, however. The Treasury building on the back of the $10 will be replaced with a picture of a 1913 march for the women's right to vote, along with five suffrage leaders: Lucretia Mott, Sojourner Truth, Elizabeth Cady Stanton, Alice Paul and Susan B. Anthony.
The Lincoln Memorial will remain on the $5 bill, but as the backdrop for a performance there by Marian Anderson, the African-American classical singer who was barred from singing at the segregated Constitution Hall nearby. Eleanor Roosevelt, who arranged the performance, and the Rev. Dr. Martin Luther King will also be featured.
The final designs will be unveiled in 2020.
* * *
Source: Author