Bangladesh: US Embassy Worker Who Published "Transgender" Porn Magazine Hacked to Death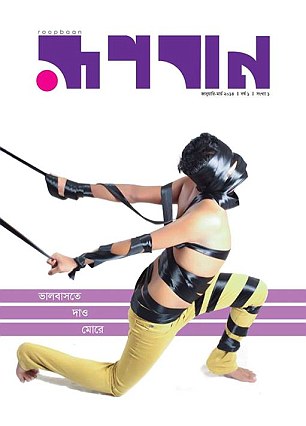 And not a White supremacist in sight…
EDITOR'S NOTE: Pushing sex perversion (including, judging by the magazine's cover image, dangerous auto-erotic asphyxiation) has apparently become official US ideology under Down Low Obama. It gets people killed. It must be difficult for Down Low Obama to see his precious gays being persecuted by precious Muslims. It is interesting that Amnesty International calls trans porn "secular writings."
A US EMBASSY worker who ran a pornographic magazine that is Bangladesh's only "LGBT" publication (pictured) has been hacked to death by suspected Islamist militants at an apartment in the capital Dhaka.
Xulhaz Mannan, editor of the transgender porn magazine Rupban, and his friend Tanay Majumde were killed by three people who posed as couriers and attacked them with sharp weapons.
One person was also injured in the attack at an apartment in the Kalabagan neighborhood, police said.
Mannan, a USAID worker, had worked as a U.S. Embassy protocol officer.
Marcia Stephens Bloom Bernicat, the U.S. ambassador to Bangladesh, paid tribute to her colleague in a statement calling Mannan 'a dear friend'.
She also slammed the 'senseless act of violence' and called on the country's government to track down his murderers.
'I am devastated by the brutal murder of Xulhaz Mannan and another young Bangladeshi this evening in Dhaka,' Bernicat said in a statement released on Monday.
'Xulhaz was more than a colleague to those of us fortunate to work with him at the U.S. Embassy. He was a dear friend.
'Our prayers are with Xulhaz, the other victim, and those injured in the attack.
'We abhor this senseless act of violence and urge the Government of Bangladesh in the strongest terms to apprehend the criminals behind these murders.'
Mannan has been behind an annual Rainbow Rally, which since 2014 has been held on April 14, Bengali New Year.
But police this year banned the event as part of widespread security measures.
Ahead of the banned rally earlier this month, Mannan said they had received threats from Islamists who posted messages online.
'They have even set up an online group to threaten us,' he said.
His death comes two days after a professor, Rezaul Karim Siddique, was hacked to death in the northwestern city of Rajshahi.
It was the latest in a series of murders of secular bloggers and liberal activists that has left the country reeling.
ISIS claimed responsibility for the attack through its news agency, saying the 58-year-old professor who wrote poetry and fiction had been murdered for 'calling for atheism'.
But Bangladesh Home Minister Asaduzzaman Khan rejected the terror group's assertion and said 'local militants' were responsible for the murder.
'The vicious killing is inexcusable and those responsible must be held to account,' Amnesty International's South Asia director, Champa Patel, said in a statement. 'This attack sadly fits the gruesome pattern established by Islamist extremist groups in Bangladesh who are targeting secular activists and writers. 'The authorities must do more to put an end to these killings. Not a single person has been brought to justice for the attacks over the past year.'
* * *
Source: Daily Mail