US Israel "Aid": $16m per Day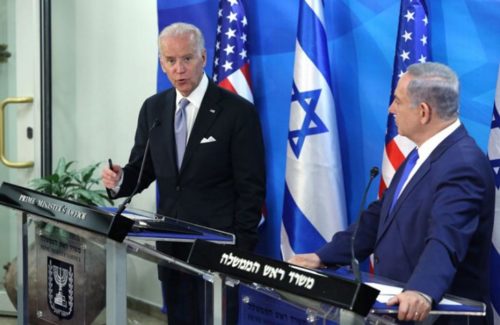 US TAXPAYERS are set to "give" at least $16 million every day in "aid" to Israel in terms of a new agreement discussed this week in Jerusalem between Vice President Joe Biden and Israeli Prime Minister Benjamin Netanyahu — up substantially from the current $11 million per day. (ILLUSTRATION: Joe Biden and Benjamin Netanyahu)
The US "aid" grant to increase in Israel is likely to be in the region of between $4.5 and $5 billion — even though America's current national debt has already climbed to over $19 trillion.
The "aid" is, according to the Times of Israel, less than the $5 billion that Netanyahu had demanded as a trade-off for the nuclear agreement between Iran and the P5+1 group of countries.
Under the existing agreement that was signed in 2007 and expires in 2017, annual military aid to Israel grew to more than $3.1 billion a year.
US president Barack Obama — regarded by the right-wing Israeli government as some sort of enemy — has already agreed in principle with Netanyahu in an earlier meeting to increase the aid package to between $4.2 billion and $4.5 billion.
This money is, of course, separate from the nearly $500 million in annual US funding for Israel's missile system programs in recent years.
This is also on top of the US military equipment and ammunition it holds in stockpile in Israel, the so-called called War Reserves Stock Allies-Israel (WRSA-I), which is valued at $1.2 billion — and which the US government has pre-authorized Israel to use at any time if it needs.
The latter weapons stockpile is, of course, just another extra way of supplying Israel with arms without having to get any congressional authorization, using the loophole of "US military bases abroad" as an excuse.
In July 2014, for example, when Israel used a substantial amount of the US ammunition stockpile in its attack on the Gaza Strip, it didn't even bother to ask permission to use the supplies, which were simply replaced — at the US taxpayer's expense.
In effect then, the US government is set to allocate between $4.5 and $5 billion in direct aid, another half billion for Israel's missile systems, and have also guaranteed to restock the $1.2 billion weapons stockpile in Israel.
This will work out to a figure of around $16 million per day, a 32 percent increase on the current handouts.
The Times of Israel added that the so-called "negotiations" over the aid package — as if it is actually a "negotiation" — are supposedly "stalled" over Netanyahu's demands for even more money.
"Some Israeli officials have reportedly threatened to hold out until Obama leaves office in the hopes of securing a better deal," the Times of Israel continued — something which is very likely given that every single candidate vying for presidency is a fanatic Israel supporter.
* The Jewish lobby's American-Israel Political Action Committee (AIPAC) has confirmed that both leading nominees for the presidency — Donald Trump and Hillary Clinton — are going to be guest speakers at the annual AIPAC conference in Washington DC on March 20–22.
Other speakers will include Biden; Netanyahu (by live video link); Lindsey Graham (R-SC), Chairman, Subcommittee on State, Foreign Operations and Related Programs, United States Senate; Kay Granger (R-TX), Chairwoman, State and Foreign Operations Appropriations Subcommittee, US House of Representatives; and Steve Israel (D-NY) Member, House Defense Appropriations Subcommittee, US House of Representatives, among many others.
Given that line-up, Israel is well justified in expecting a Jewish lobby-manipulated "increase" in the aid figures after Obama leaves office.
* * *
Source: New Observer