US Credit Card Debt Balloons to $917 Billion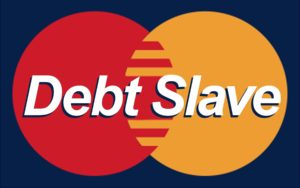 EDITOR'S NOTE: This establishment article doesn't admit it, of course, but debt is a measure of the degree to which our wealth is being transferred to the Jewish-dominated banks, which create these "loans" out of nothing. In almost every US city, the average household is carrying $4500 to $5000 in credit card debt — which means that the "creditworthy" are on average carrying far more than that. And even though this figure of $917 billion is a huge sum, remember that it is only credit card debt — the total debt is much, much higher.
LAST YEAR, credit card debt in the US surged by approximately $71 billion to $917.7 billion, according to a new study from CardHub.com. The research also found that most of the debt accrued in 2015 came in the fourth quarter, when Americans tacked on more than $52 billion.
"With 7 of the past 10 quarters reflecting year-over-year regression in consumer performance, evidence is mounting to support the notion that credit card users are reverting to pre-downturn bad habits," CardHub CEO Odysseas Papadimitriou said in a statement.
Fourth-quarter credit card debt also grew at its largest pace since the Great Recession, CardHub also said.
"It is something we need to keep an eye on if borrowing continues to grow rapidly," said Scott Hoyt, senior director at Moody's Analytics. He also said the implications of rising credit card debt would be similar to what happened in the recession, "when consumers became overly leveraged."
Wage growth remains stagnant. US workers earned 3 cents less an hour last month.
"The drop in February [wages] was pretty sharp," David Santschi, CEO of TrimTabs Investment Research said. "The wage situation does not get as much attention as the headline number and the unemployment rate, but it's evidence that the economy is basically flatlining."
* * *
Source: CNBC