Six-Year-Old Taken from Foster Family Because She Is 1.5 Per Cent. Amerindian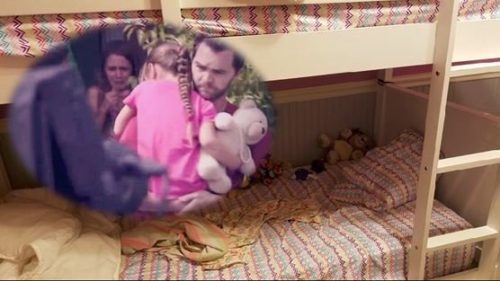 EDITOR'S NOTE: Under the regime's laws, Amerindian ancestry means everything, and White ancestry means nothing — absolutely nothing. While the idea of keeping a child within his or her own racial community is valid, this law — which considers a White child to "belong" to an Amerindian tribe — is absurd, tyrannical, and anti-White. (Especially considering that the child is 98.5 per cent. White, far beyond even William Pierce's standards for membership in our race — and might actually be closer to 99.25 per cent. White if the one "Amerindian" ancestor is typical of many tribe members.) We need a White Child Welfare Act — as an early step to a White racial state, of course — to ensure that White children and their heritage are protected.
A LITTLE girl was taken away from her longtime foster family, who was in the process of adopting her, because she is 1/64 Native American, reported NBC News.
Lexi, 6, has lived with the Page family in California for over four years. Rusty and Summer Page (pictured, above, turning over Lexi to authorities) began fostering Lexi after she lived in two failed foster homes as a baby, one that she left with a black eye and scrapes. The Pages have three other children.
They have been fighting to win custody over Lexi, but their efforts have been thwarted by the Indian Child Welfare Act of 1978. Lexi is 1.56 percent Choctaw, according to records.
The Act aims to "place Native American children with Native American families."
Although Lexi's birth father had traces of Native American ancestry, he didn't have "any social, political, or cultural ties to the tribe," and never lived on a Choctaw reservation, according to the news report.
In 2011, Lexi's extended family in Utah learned of her foster care and wanted to adopt her. The Page family said that the young girl is related to the Utah family though a step-grandfather, and the family is not Native American. An online petition by the Pages said that Lexi's foster mom, Summer Page, does have some American Indian heritage — but she is not formally enrolled in a tribe. [So all of the people involved here are essentially White, but the Utah relatives-by-marriage — who have zero Amerindian ancestry and zero relatedness to Lexi — are using the "must be transferred to a family member" technicality of the Act to engage in a custody battle to take Lexi away from a foster mother who, like Lexi, does have a trace of Amerindian in her background. This could only happen in the Talmudic-legalistic anti-White Bizarro World that America has become. — Ed.]
The California Court of Appeals ruled in 2014 that the Page family could keep Lexi while they fought for permanent custody. A few weeks ago, the Los Angeles County Department of Children and Family Services said that Lexi would be placed with the Utah family "in accordance" with the Act of 1978, NBC reported.
The Pages family began a petition to keep custody over Lexi, which currently has over 53,000 supporters.
Lexi, who calls the Pages her "mommy and daddy," was seen clutching Rusty Page and a teddy bear when she was removed from the family on yesterday.
In videos from her removal, she can be heard screaming inside her home before she was carried out.
"Our family is so incredibly devastated. Our hearts are broken and we are trying to make sense of everything that has happened with our three other children who witnessed their sister Lexi forcefully ripped away from our family by strangers. But nobody could possibly be more devastated than our six-year-old daughter who found herself restrained in a car and driven away to go and live in a foreign place hundreds of miles from her family, friends, teachers, home and life," the Pages said in a statement on their Facebook page on Monday.
The National Indian Child Welfare Association defended the decision, and said in a statement, "The purpose of foster care is to provide temporary care for children while families get services and support to reunite with their children… The temporary nature of these relationships is also the reason we view those who serve as foster parents as selfless and nurturing individuals. Reunification and placement with extended family whenever possible is best practice for all children, not just Native American."
"We will not give up on our daughter, ever," the Pages said online this morning.
 * * *