Jews Punish CUNY for "Lackluster Response to Campus Anti-Semitism"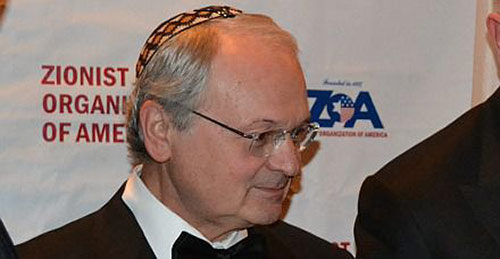 Legislators pressured to slash funding to school; Jews expect swift and harsh punishment of all who criticize Israel or the Jewish power structure
THE HEAD of a major Jewish organization praised the New York State Senate's decision last week to slash funding to the City University of New York (CUNY), telling The Algemeiner that the move was necessary to motivate CUNY to properly address the antisemitism across its campuses, and ought to serve as a precedent for other states and universities.
Morton Klein (pictured), president of the Zionist Organization of America (ZOA), told The Algemeiner, "This case will send a message to legislators around the country, to force public universities that are ignoring the real fears of Jewish students and staff to finally take appropriate and serious actions."
Klein criticized CUNY's announcement late last month — as reported by The Algemeiner — that it had ordered an independent probe into allegations of widespread campus antisemitism, and would assemble a task force to make recommendations for improving the university's policies and practices.
"Universities always want to 'study' the problem of antisemitism instead of acting immediately against it," Klein said.
When it comes to other incidents of racism and bias, Klein noted, universities act very differently. "Administrators promptly and rightly condemn the acts themselves and their perpetrators, who are immediately disciplined. But here, when presented with a long list of antisemitic incidents dating back several years with clear and consistent perpetrators, all they do is order an investigation — even though they already know all the facts."
Last month, as reported by The Algemeiner, ZOA sent a 14-page letter to CUNY documenting many incidents at four of its 23 campuses, attributing them and what it considered a pervading anti-Jewish atmosphere to local chapters of the national group, Students for Justice in Palestine (SJP).
"SJP is a racist, antisemitic group," Klein said, "which has held despicable campus rallies promoting hatred and violence against Jews, among other incidents. CUNY ought to suspend the group immediately for violating CUNY's own rules of conduct. Instead, they issue a bland statement condemning antisemitism in general. If CUNY were serious about the problem, its administrators would use their own First Amendment rights to denounce SJP's monstrous acts and statements."
The New York State Senate is doing exactly the right thing, Klein noted, cutting CUNY's budget at least partly because of CUNY's lackluster response to the problem. He mentioned State Senator Jack Martins, who last week argued that CUNY should suspend SJP while it conducts its investigation, as reported by PoliticoNewYork. An article posted on the ZOA website quoted Senate Higher Education Committee Chair Ken LaValle as saying, "I want to hear from the [CUNY] Chancellor or someone there that they really were outraged by this."
"The power of the purse is perhaps the only thing that will move CUNY," Klein said, praising the Senate budget cuts. "Over the past couple of years, we've had several meetings with CUNY, we've written letters, but nothing. We have tried all other measures and gotten no results. Senate leaders recognize that CUNY simply calling for an investigation is inadequate. Other institutions of higher education should take note."
Klein had particularly sharp words for College of Staten Island Professor Sarah Schulman, who serves as faculty adviser to her campus SJP. "She has stated, among other things, that murdering Arabs is a Jewish value. This offensive statement reflects a grotesquely false allegation that Israelis are intentionally 'murdering' innocent Palestinians, and echoes the lies and talking points of Hamas."
ZOA has sent a letter to State Senator Martins about Schulman as well, as reported by the Daily News. "In light of the current situation on CUNY campuses," Klein wrote to Martins, "combined with Schulman's hateful rhetoric, we find it entirely inappropriate for her to be serving as a faculty adviser to SJP."
Klein added, "Again, if CUNY were serious about antisemitism, they would also explicitly condemn Schulman's hateful rhetoric."
As reported by the Israeli daily Haaretz, CUNY Chancellor James Milliken wrote to the New York State Senate last week after the budget cuts passed. "We take seriously our responsibility to promote and encourage tolerance and civility," the letter said. But as a public university, it added, "CUNY cannot infringe the constitutional right of free speech and association of its students faculty and staff."
* * *
Source: Algemeiner