Iran Sentences Billionaire to Death for Corruption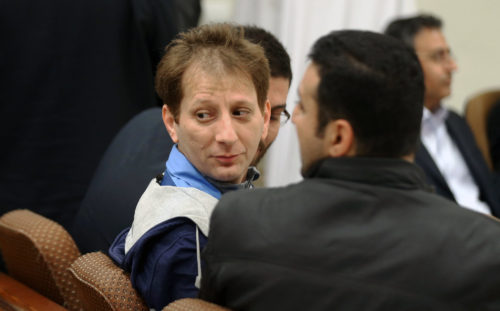 Does this kind of thing ever happen to corrupt billionaire oligarchs in the West, no matter what they do?
AN IRANIAN COURT has sentenced a billionaire businessman to death for corruption linked to oil sales during the rule of former President Mahmoud Ahmadinejad, a judiciary spokesman said Sunday. (ILLUSTRATION: Babak Zanjani in court on Sunday in Tehran.)
The businessman, Babak Zanjani, and two of his associates were sentenced to death for money laundering, among other charges, the spokesman, Gholamhossein Mohseni Ejehi, said in remarks broadcast on state television. He did not identify the two associates. Previous reports in the state news media said the three had been charged with forgery and fraud.
"The court has recognized the three defendants as 'corrupters on earth' and sentenced them to death," Mr. Ejehi said. "Corrupters on earth" is an Islamic term referring to crimes that are punishable by death because they have a major impact on society. The verdict can be appealed.
A news website run by the judiciary identified the associates as Mahdi Shams, a British-Iranian businessman who was detained in 2015, and Hamid Fallah Heravi, a retired businessman.
Mr. Zanjani was arrested in 2013, shortly after the election of President Hassan Rouhani, who ordered a crackdown on alleged corruption during the eight-year rule of Mr. Ahmadinejad, his hard-line predecessor. Mr. Zanjani owes about $2.25 billion for oil sales he made on behalf of Mr. Ahmadinejad's government, Iran's Oil Ministry has said.
The financial dealings of Mr. Zanjani, who amassed a fortune estimated at $14 billion, have also aroused suspicion in the West. He was blacklisted by the European Union in 2012 and by the United States in 2013 for violations of the sanctions imposed on Iran in connection with its nuclear program.
* * *
Source: New York Times