Hungary: $2700 Fine for Calling the "Holocaust" the "Holoscam"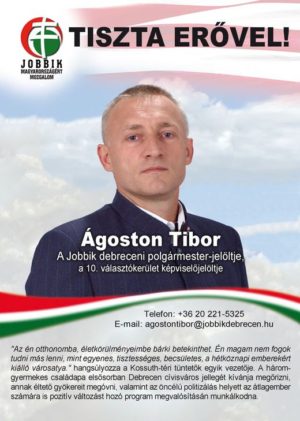 For uttering one (invented) word that Jews didn't like, a totally innocent man went from honored leader to "convicted criminal" in six weeks.
BUDAPEST – A Hungarian appeals court has confirmed a fine of 750,000 forints ($2,700) given to a politician from the far-right Jobbik party for making jokes about the Holocaust in public.
Tibor Agoston (pictured), a municipal councilor in the eastern city of Debrecen, gave a speech during a January 2014 commemoration of Hungarian soldiers killed in World War II in which he used mocking expressions about the Holocaust. He also implied the Holocaust was a lie.
In his defense, Agoston said he had used "unfortunate wording."
The court in Debrecen said Wednesday in its ruling that Agoston can pay the fine in 15 installments.
The public denial, downplaying or justification of the Holocaust or of the crimes committed by Hungary's communist regime can be punished by up to three years in prison.
The original news report from six weeks ago on the "forbidden word" follows:
A Jewish leader in the east Hungarian city of Debrecen has protested against a remark by a radical nationalist Jobbik politician suggestive of Holocaust denial.
Tibor Agoston, a local lawmaker who is also the deputy chairman of Jobbik's Debrecen and Hajdu-Bihar County organisations, referred at a public event earlier in the week to the "Holoscam".
Tamas Horovitz, chairman of the Debrecen Jewish Congregation, said in a statement that he found Agoston's words "revolting", adding that he had filed a report with the police on the ground of Holocaust denial.
The E-PM electoral alliance also condemned the Jobbik politician and similarly filed a report with the police.
The Jobbik party said in a statement on Thursday that it condemned all types of genocide and bowed its head to all innocent victims, but at the same time it regretted that "a section of the Hungarian Jewish community does not simply want to commemorate the Holocaust but use it for its own material and political goals, too."
Agoston said in a separate statement that the Jobbik statement chimed with his own opinion.
* * *
Source: Politics.hu and Ynet News