Former Yugoslav Republic of Macedonia Builds 200-Mile Fence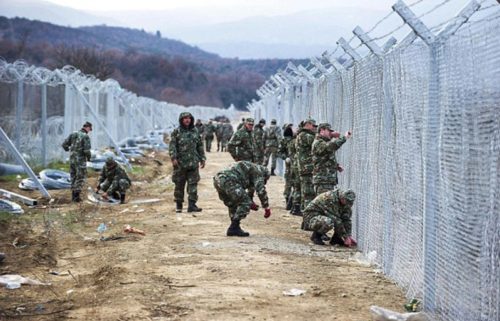 EDITOR'S NOTE: Even this fence is a weak halfway measure. Even worse is the allowance of "certain" Syrian refugees to enter — which is an admission that Macedonia's leaders still assume the existence of a "moral obligation" to welcome non-Whites into Europe if they are "truly refugees." What is needed is a new, Cosmotheist morality, which calls for exclusive White living space.
THE Former Yugoslav Republic of Macedonia (FYROM) is to build a two-hundred-mile-long steel fence along its border with Greece to halt the ongoing non-White invasion of Europe. The FYROM government has also announced that it will also with immediate effect only allow "Syrians" from parts of the country they consider to be at war to enter — meaning that those from cities such as Aleppo could cross, but those from the capital of Damascus would be stopped.
The plans to seal the border — which is apparently opposed by German chancellor Angela Merkel — will be up for discussion at a European Union summit on the invasion to be held tomorrow.
Ahead of the meeting, Macedonia has requested that neighboring countries help it seal the thoroughfare by extending the existing 19-mile razor-wire fence on its southern border with Greece and providing extra guards and riot gear.
The former Yugoslav republic, which is not a member of the EU, has sent a list of needed items including bulletproof vests, truncheons, handcuffs, pepper spray, rubber bullets, and grenades filled with rubber balls.
Officials in Skopje have also asked for 35 Tasers and a sound cannon that would be fitted to an armored vehicle and used to break up crowds by emitting a pain-inducing noise.
* * *
Source: New Observer