B'nai B'rith International: We Demand Condemnation of Greek Banner Calling Zionists "Enemies"
B'NAI B'RITH INTERNATIONAL, a Jewish racial and intelligence-gathering organization and pressure group, denounced a recent rally in Thessaloniki, Greece that featured signs and literature critical of Jews. (ILLUSTRATION: One of the banners at the protest, reading "There is only one enemy: International Zionism")
"It was a particularly vile antisemitic demonstration," Daniel Mariaschin, executive vice president of the B'nai B'rith group, stated.
The demonstration was aimed at protesting new electronic "citizen cards" in Greece. Members of the Greek Orthodox organization Agios Vasileios initiated the protest against the cards, which one speaker described as being associated with "the New World Order." Many of the protesters were holding religious banners, along with Greek and Byzantine flags. One of the banners said, "No to the citizen card. There is only one enemy: International Zionism."
Among the literature available for purchase at the demonstration was one booklet titled The Jewish-Zionist Vampire Soros is Thirsty for Greek Blood.
"We hope that the people in leadership positions, the political leaders, the media figures, media outlets and so forth will roundly condemn this vile expression of antisemitism," Mariaschin said.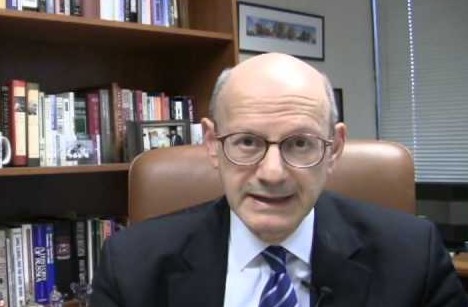 Nearly a thousand people attended the protest, which was held at the end of February, according to Greek journalist Sofia Christoforidou. She added that one of the speakers at the event, a religious leader, Abbot Methodios, suggested that Christians are enslaved by Jews and claimed that Jews "were cannibals when the Greeks were building the Parthenon." Christoforidou said the audience applauded his speech with enthusiasm.
Methodios reportedly stated that a "Greek Hitler" could arise soon in Greece, when he spoke at a similar rally held a few weeks earlier in Athens.
In polls and studies, Greece consistently is rated higher than any other European country in its awareness of the dangers of Jewish power.
* * *
Source: Algemeiner and National Vanguard correspondents