Anonymous Just Declared War on Donald Trump With a Massive Cyberattack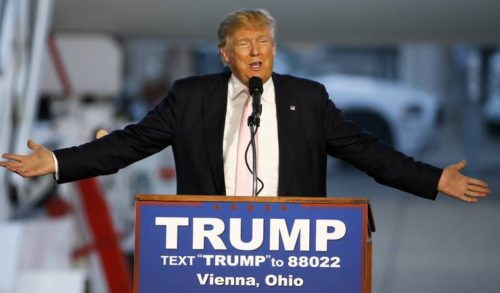 Anyone with a mask, a video camera, and 'Net access can claim to speak for Anonymous. Any agency with a large enough budget can infiltrate and control it. Most recent incarnations of Anonymous are the opposite of revolutionary and act like just another extralegal arm of the Politically Correct establishment.
ONCE AGAIN, hacktivist collective Anonymous has threatened to take down 2016 presidential hopeful Donald Trump, this time declaring "total war" on the GOP frontrunner. Anonymous' war plan against Trump includes dismantling the candidate's online presence and digging for dirt on the business tycoon in an attempt to destroy his brand. According to a video posted to YouTube on March 4, this plan of attack includes a specific timeline. April 1 is the take down date for TrumpChicago.com, and Anonymous is recruiting supporters to aid in its attack.
"Dear Donald Trump, we have been watching you for a long time and what we see is deeply disturbing," a masked member of the group addresses the camera before cycling through a montage of controversial Trump comments. "Your inconsistent and hateful campaign has not only shocked the United States of America, you have shocked the entire planet with your appalling actions and ideas."
In the video, the Anonymous representative makes clear that the group is welcoming all willing participants to join in the group's so-called war on Trump — with or without hacking experience. "This is a call to protect our future, our freedom and our very way of life," reads the hacktivist group member during the video. Responding to the call to arms, users on Twitter showed support using the hashtag #OpTrump.
Anonymous declared war on Trump. He's done for. 😂

— Pledge [Matt] (@massom96) March 15, 2016
Looking forward to seeing what #Anonymous can do!
Get it #anon :) https://t.co/pXRAtNA51I

— The Thunderdome (@AFreeDenver) March 15, 2016
We are #Anonymous, we do not forgive, we do not forget.#OpTrump @realDonaldTrump Expect Us ! pic.twitter.com/6AWAjgsamj

— Emeraldia Ayakashi (@Iheartemeraldia) March 15, 2016
#OpTrump All hands on deck. #NeverTrump

— ScottBytes (@ScottBytes) March 15, 2016
Congrats, you've angered the only entity more powerful than the corporations that pay you to say things #OpTrump https://t.co/w0MmhPnV4U

— Adam Ismail (@pioneerspine) March 15, 2016
Damn… If Anonymous does something to Trump… Daaaang.. #OpTrump pic.twitter.com/2GvJ0GSs1M

— Sergio Ordäz (@sergio_824) March 15, 2016
This isn't the first time Anonymous has come out swinging against Trump. In December, the group took aim at the business tycoon with a stern warning after the Republican candidate called for a full ban on Muslims entering the U.S., a statement which angered many across party lines.
"Donald Trump, think twice before you speak anything," said a masked member of Anonymous in a video at the time. "You have been warned."
It would appear that Anonymous is now ready to scale up its efforts to dismantle Trump's candidacy, this time with a clearer plan of attack. Watch the group's most recent video on Trump here and follow the conversation across social media at #OpTrump.
https://www.youtube.com/watch?v=Ciavyc6bE7A
* * *
Source: News.Mic