$100M Chinese "Cultural Theme Park" to be Built in South Carolina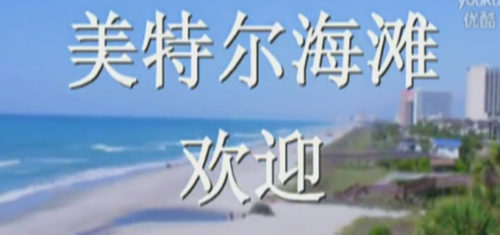 MYRTLE BEACH MAYOR John Rhodes and Horry County Council Chairman Mark Lazarus announce a $100 million theme park is planned for Myrtle Beach.
The theme park is slated to open in the fall of 2017 or spring of 2018, Mayor Rhodes adds. The mayor also expressed interest in having Mandarin Chinese taught in Horry County Schools, specifically in third to fifth graders and using the theme park as an introduction to the new curriculum.
"We want to try to educate people on the culture of China and also have an opportunity to have classes where young kids can start to learn how to read Mandarin. Mandarin is almost like an art and I think it'll be very easy for them to pick up, we need to get our school system to start teaching Mandarin. They're already doing that in Rock Hill. They're doing it in Charlotte. They realize what's going to happen down the road and I think it's time for Horry County to look at doing the same thing in their school system," Mayor Rhodes said.
While Rhodes did not specify where exactly the theme park would be built, he did note that city leaders have locations in mind to show Chinese investors when they make the trip to Myrtle Beach in April. In addition, a local contractor has been contacted to help with the design of the park, adds Rhodes.
Also at the press conference was Horry County Council Chairman Mark Lazarus, who accompanied Rhodes on a recent business trip to China. The 16 day trip, made in late January, was at the request of China investors, Rhodes reported to News13 before leaving for the trip.
The City's total expenses for the trip were $4,296.20. The city paid $3,396.20 for air fare. The mayor's per diem expenses totaled $900.00 for 18 days of travel. He was advanced $1,800.00 for the trip, but he returned the unused $900.00 to the city via personal check.
Lazarus says his only cost was the cost of his plane ticket and that was around $1700. Chinese investors incurred most of the expenses for both.
An agenda for the trip obtained by News13 had Rhodes and Lazarus scheduled to visit several different cities. The agenda also mentioned the Chinese government's interest in growing tourism and opportunities for investment in the Myrtle Beach area, as well as intentions to grow Chinese culture through the chamber of commerce.
Rhodes and Lazarus returned from the China trip February 5 and made the $100 million investment announcement Friday afternoon.
Rhodes says the city hopes to finalize the deal for the theme park in April.
* * *
Source: Red Ice Creations