Zimbabwe: Government Thugs Seize White Farm, Give it to Wealthy Black Living in Britain
Dispossession of White family garners neither tears nor notice from anti-White US government
THE WEALTHY black General Practitioner living in the UK who seized a tobacco farm from a white Zimbabwean family today refused to apologise to them — as the plantation he has taken over stood deserted under lock and key, guarded by thugs carrying AK-47s.
Dr Sylvester Nyatsuro would not answer questions surrounding the controversial 'land grab' of the tobacco plantation the Rankin family have worked on for 35 years as he left a medical centre in Nottingham. (ILLUSTRATION: Anita and Philip Rankin)
Meanwhile some 7,500 miles away in northern Zimbabwe, several armed guards patrolled the £300,000 tobacco crop once owned by the Rankins and the carefully tended gardens withered in the sun.
The doors to the much-loved family home swung open, and the 2,000 acre farm was silent and almost ghostly. A policeman also stood guard at the gates, warning: 'No one can come here'.
Phillip Rankin was handcuffed by police and dragged off his land on Friday so it could be claimed by Dr Nyatsuro, who runs a weight loss clinic in Nottingham.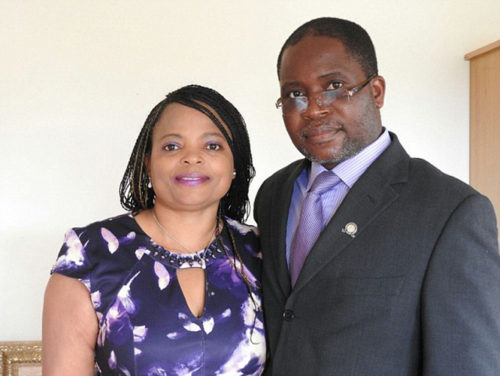 Today Dr Nyatsuro refused to comment or offer any words of apology to the couple, who have farmed the land for 30 years and have no other source of income.
He also declined to comment when leaving Bakersfield Medical Centre, less than a mile from his own practice, before driving away in his black Mercedes 4×4.
Solicitor Nyarodzo Maphosa said today she was attempting to lodge an 'urgent restitutory interdict' in the Harare High Court. She is seeking a ruling that would allow the Rankins to return to their home and carry on farming as they were before the 'lawless' acts last Friday, she said.
'I am finalising annexures and am submitting the papers now,' she said. Ms Maphosa was a witness to the events early Friday when about 20 policemen dug their way under the security fence around the homestead and forced Mr Rankin out of the home.
It came as Anita Rankin, who has farmed the tobacco fields with her husband for thirty years, wept as she described the trauma of losing everything they own.
She said she she could no longer cope with the campaign of intimidation from 'thugs'. The GP is said to be friends with Grace Mugabe.
She told MailOnline: 'This is actually too much for me. This has been going on for months. The people have not behaved well towards us.
'They would come to the kitchen door and stare at us and they made so much noise. It was a very tough situation and it went on and on.
The farm in northern Zimbabwe was stormed by police officers, who have since taken over their home and even confiscated their tractor when workers tried to continue efforts to grow tobacco, and the stress of the situation has made Mrs Rankin ill.
She and her husband are now staying with their son Barry in Harare as they contemplate how to claim back the £300,000 tobacco crop they planted and move on with their lives.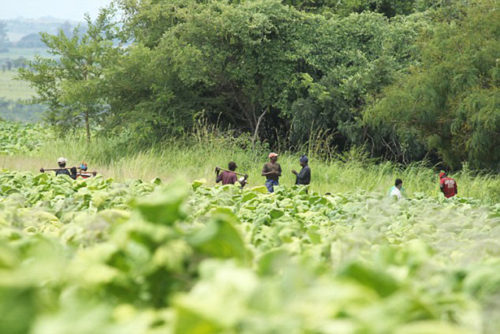 The deserted farm was eerily quiet on Tuesday morning, apart from the sounds of the settlers.
Hundreds of thousands of pounds of carefully planted tobacco is being allowed to wither in the sun, while a once-loved garden blooming with flowers goes untended. The top leaves of many acres of tobacco now needs reaping.
A handful of workers can be seen in the distance trying to salvage the Rankins' expensive crop.
The Rankin family has no property beyond the farm and had borrowed a huge sum of money – £400,000 – to finance this year's crop and manage debts from previous years.
Son Barry said: 'We paid the workers their January salary [on Monday], but as for next month I just don't know. I don't know how we will manage any of this.'
Barry, 33, began to work for his father in 2010 and then built a new house on the farm for his wife and three young children.
Dr Nyatsuro, who is supposedly linked to the Mugabes through his wife Veronica, apparently turned up at Kingston Deverill in September with a government document saying that he was now the rightful owner of the land.
Two dozen settlers then moved into a nearby cottage and caused problems for the family, according to Mrs Rankin, 54, who has three children with her husband.
The family said their home is now under guard by seven members of the Zimbabwe Republic Police who have prevented workers from using the tractor.
Officers are sleeping on the floor inside the empty house and have even removed some of the doors from the property and loaded them on to a vehicle.
Dr Nyatsuro, 45, is originally from the African country but has lived in Britain for at least 15 years, and is now in charge of his own GP practice.
He and his wife Veronica, who is reportedly travelled to Zimbabwe on January 26, were allocated the Rankins' farm under Robert Mugabe's controversial land seizure laws which allow the state to take the property of white people and hand it over to 'indigenous' black Africans.
The group is campaigning the UK government to have Mr Nyatsuro's citizenship revoked.
Barry, speaking from his new home in the capital Harare, described how the family thought they had 'survived' after they held onto their land in the initial wave of confiscations by the Mugabe regime.
He hit out against the eviction, saying it 'doesn't make sense' that a wealthy professional who lives in the West should be given property by the government
'As a family we are absolutely gutted,' Mr Rankin told MailOnline. 'We have been turfed off of our land and there's nothing we can do about it. We are devastated.
'It was our business – but more important than that, it was our home. We have never owned anything other than the farm and that's gone in one weekend.
'My parents have been working on the farm for 35 years. I grew up there. Those years have not all been hunky dory, we have had our ups and downs like any family, but we thought the farm would always be there.
In the early hours of Friday morning, 20 police officers dug under the fence surrounding the family's home and knocked on the door before carting away most of their belongings and taking them to a derelict warehouse.
They then handcuffed Mr Rankin and took him to a police station before later releasing him to stay with relatives.
Barry added: 'We have had 16 years of land acquisition in Zimbabwe and we thought we'd survived – we didn't see this coming. We thought we had ridden our way through it, we thought we would be alright.
'I don't know what we are going to do. I can't even think beyond tonight.'
* * *
Source: Red Ice Creations