Whites Who Think They're Indians: "Cree" RCAF Corporal Alleges White Racism Drove Him Near Suicide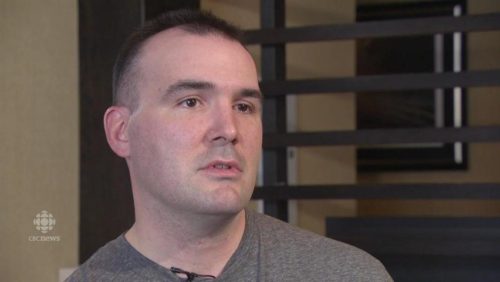 EDITOR'S NOTE: In the bizarre world of multiracialist North America, we find the growing phenomenon of Whites with minuscule or imaginary Amerindian ancestry claiming full "Indian" identity.
Here are some excerpts from the CBC's story of Corporal Marc Frenette (pictured), soon-to-be-late of the Royal Canadian Air Force, who claims to be a Cree Indian (his White-appearing wife also asserts Amerindian identity; they will soon be "retreating" to her people's reserve, the Hiawatha First Nation).
Frenette alleges that "racial harassment" from White soldiers nearly drove him to suicide. He is now making a big splash in the controlled media in Canada and — who knows? — perhaps is looking to hire a lawyer or two on a contingency basis.
Frenette's heart-rending tale includes colleagues calling him "wagon burner" and "the Whitest Indian I know," going "woo-woo-woo" as they passed in the hallway, and holding a lighter near him (he does not allege that he was burned) while saying "time to burn this Indian before he burns any more wagons." Is it possible that his fellow servicemen needled him because they resented someone who looks as White as they do riding the racial benefits and preferences train that directly hurts the careers and morale of Whites? (The CBC article quoted below openly crows that RCAF preferences for non-Whites are going to be accelerated even further.)
Compare the treatment of Frenette to the harassment endured by another Canadian, the artist and German immigrant Ernst Zundel, who had his life turned upside down by arrests, years of ruinous legal proceedings, false prosecution, firebombing of his home, deportation, and finally a long imprisonment — simply for publishing his views on European history.
* * *
CBC: A Cree member of the Royal Canadian Air Force says he is leaving the military after enduring years of racism that left him feeling ostracized and contemplating suicide.
Master Cpl. Marc Frenette served under "poor, incompetent and often inconsistent leadership" that allowed the alleged harassment to continue for so long, according to a military report obtained by CBC News.
"He was on his hands and knees in the shower crying because he didn't know how he could take anymore," his wife Kristina Paudash-Frenette told CBC News. "It's been heartbreaking. No one deserves this at all."
This report comes at a time when the military is preparing to launch a new diversity strategy in late February to recruit more women, visible minorities and aboriginal members.
The aviation technician, 38, said he joined the military a decade ago to be part of a team. But for the last three years he says he's felt like an outsider. Frenette alleges the racism started when he moved to Petawawa's new helicopter squadron from Moose Jaw in 2013.
Frenette says squadron members at Garrison Petawawa taunted him daily with racial slurs like "kawish," "wagon burner," and hooted offensive "oh-oh-oh" noises as he passed by in the hallway.
While working on a Chinook helicopter in February 2015, an RCAF member allegedly sparked a lighter underneath him and said, "time to burn this Indian before he burns any more wagons."
"That pretty much broke me," Frenette told CBC News. "That's when I thought, what's going to be next."
When he went to his chain of command for help, Frenette says, he was told to laugh it off.
"I felt like it was a battle," Frenette said. "I had to fight almost the chain of command, where I was hoping they would be helping me."
Frenette sent his chief warrant officer a two-page complaint asking to move squadrons over concerns for his safety….
According to the internal report the leadership involved were talked to about the gravity of not ensuring a harassment-free workplace, compelled to attend a series of professional development sessions. The officer who failed to follow up the initial complaint was issued a recorded warning.
Lt.-Gen. Christine Whitecross said one of her three priorities in implementing the upcoming diversity strategy is to increase diversity numbers.
The Canadian Forces still falls far short of reaching the required targets, according to figures provided by the military:
• Women: 15 per cent (goal is 25.1 per cent)
• Visible minorities: 6.5 per cent (goal is 11.8 per cent)
• Aboriginal peoples: 2.5 per cent (goal is 3.4 per cent).
"We want a diverse and respectful organization," said Col. François Bariteau, a spokesman with the Department of National Defence. "One that values differences, one that recognizes differences and can deal with differences."
Concerned the military wasn't doing enough to discipline the alleged offenders in his case, Frenette filed a complaint with the Canadian Human Rights Commission [an infamous Soviet-style anti-White, Jewish-dominated group — Ed.] in November, 2015.
The military says it did take action by launching a second, parallel harassment investigation, which is still underway. It involves alternative dispute resolution sessions in which Frenette sits down with a mediator and the eight people alleged to have allegedly harassed him, to confront the realities of racism and how it affected Frenette.
But Frenette says it's not enough….
Frenette, who is leaving the military at the end of the month, says he contemplated suicide. His marriage, once happy, has suffered, so he's moving with his wife and eight-year-old son to Hiawatha First Nation, a place where they hope to pull their lives back together….
* * *
Source: read the full article at the CBC