"Uncle Ike" Eisenberg: Seattle's Hyperaggressive Jewish Pot King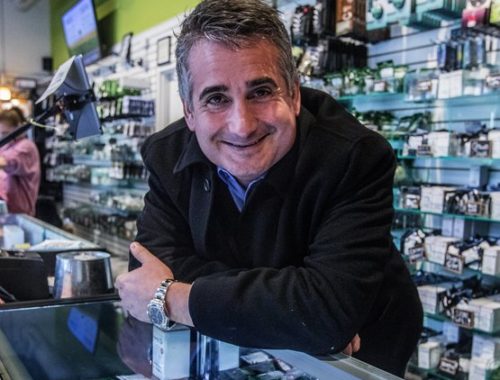 Mainstream media lionize "entrepreneur" who makes a fortune ruining lives
JUST AFTER Uncle Ike's Pot Shop opened in Seattle's Central District, it boasted in an ad, "Our weed cures Ebola." Knowing that merchants in the new industry weren't allowed to make any medical claims about pot, the fine print disclaimer winked: "If you believe this ad, you are a (expletive) moron." Above the entrance to the store's office, down the block, another neon sign mocks: "Hey stoner, around the corner."
Ian Karl Eisenberg (pictured) is "Uncle Ike." ("I've always tried to get people to call me 'Ike,'" he said. "It's one of those old solid names.") A serial entrepreneur who has sold phone sex, ringtones and zero-calorie soda, he owns the shop, as well as four nearby parcels. In this business, as in the past, he has operated close to the legal edge with an audacity rarely seen in Seattle business.
When a rival was about to open a shop on Capitol Hill, Eisenberg knew that state rules did not allow a pot business within 1,000 feet of certain venues where kids congregated. He opened a game arcade across the street from his rival.
When that rival's real-estate broker dished on Eisenberg's blocking ploy in the comments thread of the Capitol Hill Blog, Eisenberg's lawyer fired off a cease-and-desist letter. When a new shop, Ponder, opened near Uncle Ike's and employed sign-spinners, Eisenberg sued to stop spinning on public sidewalks.
Eisenberg faces one strain of criticism unlike anyone in the local industry. He's blamed for gentrifying his neighborhood and displacing its dwindling number of African Americans by selling weed — the very same business that's led to disproportionate arrests of African Americans across the US.
Several hundred protesters descended on Uncle Ike's on the Martin Luther King Jr. holiday. A group calling themselves the Seattle Black Book Club demanded that Eisenberg turn over most of his property to their cause, pay for the legal defense of minorities with drug cases in Seattle, build a community center and give financial aid to people displaced from the Central District.
His sales average about $45,000 a day, according to state data.
He first made a name for himself, according to a 1997 Wired magazine story, in the phone-sex business where his father was considered a pioneer. "I had a service bureau," Eisenberg said. "We offered everything from adult sex, to horoscopes, to psychics and jokes of the day."
Any moral qualms?
"Is pot," he asked, "a moral business? Is working for Boeing and making warplanes moral?"
Eisenberg ventured into Internet-related services. In 2000, he and two of his companies were accused of deceptive practices by the Federal Trade Commission (FTC).
Eisenberg's companies sent $3.50 rebate checks to millions of small businesses and consumers, the FTC said. By cashing the checks many unknowingly agreed, the FTC said, to have Eisenberg's companies as their Internet Service Provider. They started getting billed up to $30 a month.
A federal judge ruled that Eisenberg and other defendants had violated the law. They were ordered to pay a $359,000 judgment.
"It was a mistake," Eisenberg said of the scheme.
After state officials held a lottery for pot-store licenses in early 2014, Eisenberg bought the company of a lucky winner. He would only say he paid "a lot."
By fall he opened Uncle Ike's, then Seattle's closest shop to Capitol Hill's many weed fans, over the objections of Pastor Reggie Witherspoon and the Mount Calvary Christian Center next door.
The church sued, claiming Uncle Ike's shouldn't have been permitted some 250 feet from its teen center. Judges ruled against two of the church's legal motions, and Witherspoon said the church could no longer afford the lawsuit. The pastor said he remains "livid and irate" about the proximity of the pot shop.
Uncle Ike's is now selling $99 ounces, about half of what the cheapest ounces cost at Seattle's leading shops. That appears to be a first in legal pot, said Greg James, publisher of Marijuana Venture magazine. Eisenberg is going to change the industry with his approach, James predicts, forcing some farmers — "who think their pot is grown with unicorn poop," Eisenberg said — into greater efficiencies and lower prices.
Another Eisenberg strategy: Because pot is still illegal under federal law, businesses can't take basic tax deductions such as the cost of labor. To compensate for that lost value, Eisenberg realized his employees needed to move fast.
Unlike some boutique-style shops, Uncle Ike's feels more like a Starbucks, with customers queuing up to be served by a handful of budtenders moving at a brisk pace. Some nights the line stretches out the door and around the corner, under the "Hey Stoner" sign.
In response to Eisenberg's lawsuit to stop Ponder's sign-spinners, its lawyer alleged that Uncle Ike's had itself skirted state advertising rules, starting with the Ebola ad that regulators halted.
And while stores are limited to one 1,600-square-inch attached sign, Uncle Ike's has larger neon signs on its paraphernalia shop across the parking lot, plus a wall mural on the building next to the shop, all with the same logo. Eisenberg's 1967 Checker stretch cab is a rolling ad that travels by children, Ponder's lawyer said. (The cab advertises the Uncle Ike's paraphernalia shop, not pot, Eisenberg said.)
Eisenberg is "all about skating on the edge," said Sam Burke, whose shop, Ruckus, was delayed for months by the arcade, which was unpermitted by the city and eventually closed. "Personally he's a very pleasant guy," Burke said. "Professionally, I'd never work with him."
Eisenberg admits his arcade ploy was meant, in part, to frustrate Burke.
"Life is not a popularity contest," he said.
The neighborhood is better with Uncle Ike's, Eisenberg said. Fewer illegal dealers hang out. His properties haven't displaced any residents, he said, and they're bringing visitors and a safer feeling.
Still, he acknowledges the paradox of Uncle Ike's selling weed where African Americans were arrested for the same. He stood in the shop's parking lot and listened to recent protesters. He reached out to them via Facebook, to no avail, he said.
"How do you set up a system," he said, where those jailed for pot "can benefit in the same ratio they were disproportionately harmed, especially in a heavily regulated industry?"
Protesters said he should contribute to legally defending people facing drug charges.
"Please tell me how," he said. "I'm not familiar with these programs if they exist."
* * *