Poverty, Race and Crime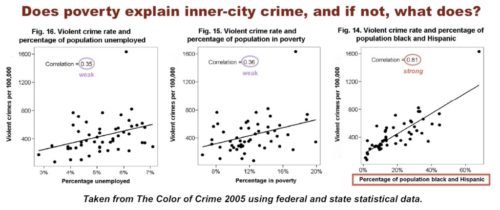 by David Sims
THERE IS a correlation between poverty and crime. There is a rationale by which some crimes can be understood as having poverty as their cause. However, those on the political Left often go overboard, extenuating the poverty-causes-crime argument beyond the reason of evidence.
The idea is that poor people, seeking food and the bare necessities of life, are forced to commit crimes in order to survive. But Western societies do at least feed and shelter the poor. Mostly. If public assistance were ended — or overwhelmed, as it might eventually be as the result of immigration — then there might be a burst of crime from the struggling, dying people. But it would soon be over. The steady-state condition of never-ending boiling of the crime pot does not indicate poverty as the cause of crime.
If poverty were the cause of crime, the per capita crime rate among poor people would exhibit a strong correlation with socio-economic status, but no correlation at all with race among people who are equally rich or equally poor. But I've checked, and there's an even stronger correlation between crime and race than there is between crime and social class. The best predictor of the crime rates in an area is almost always its racial demographics. The darker the average skin color is, the higher the crime rate is.
Note, however, that the skin color isn't the cause of the crime, but rather that the criminality and the darker skin are correlated because both are effects of the same genetic package. I'd imagine that the evolution of human beings might have gone differently, but the way that it actually went on Earth caused this curious correlation to exist.
Each race has a characteristic statistical spread of behaviors. Poor Whites don't behave as poor Blacks do. The conjecture that poverty is the major cause of crime is disproved by the evidence. It is a myth whose tellers hope to blame "social injustice" for racial differences.
On the contrary: Blacks and Whites simply aren't the same kind of creature.
The poverty-causes-crime myth serves as the leftists' road to political empowerment, which is their true goal. The Marxists want to be able to dominate, and thus to exploit, everybody else. They want to supplant the natural elite, the elite of merit, with themselves, and to enforce their rule by murdering dissidents and by starving defiant populations into submission. All of their talk about "social justice" is merely a hypocritical deception.
* * *
Source: David Sims