New Jersey: Jews Use Intimidation to "Encourage" Residents to Sell Their Homes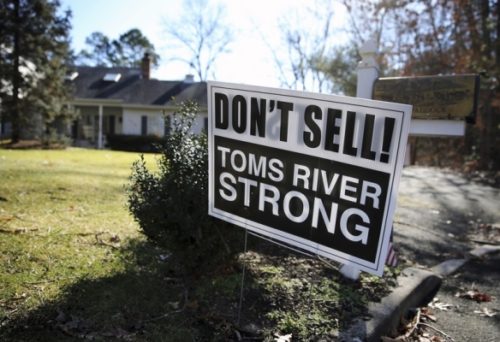 Jews object to new local laws limiting hours of door-to-door "solicitations to sell."
LAKEWOOD, N.J. – James Jackson didn't want to sell his home but thanked the black-suited man for his interest anyway.
That's when the man put his hand on Jackson's shoulder and told him he might want to "reconsider." Many of his neighbors in the New Jersey shore town of Toms River, the man said, already planned to sell to Jewish buyers like those he represented. (ILLUSTRATION: A yard sign from Toms River showing community resistance to Jewish strong-arm tactics aimed at intimidating homeowners into selling out)
"He asked me why I would want to live in a Hasidic neighborhood if I wasn't Hasidic," Jackson recalled. "He asked if I would really be happy, if it would be in my family's best interests."
A housing crunch in Lakewood, home to one of the nation's largest populations of Hasidic Jews, has triggered what residents of neighboring communities say are overly aggressive, all-hours solicitations from agents looking to find homes for the rapidly growing Jewish community.
The complaints have prompted towns, including Toms River, to update their "no-knock" rules and related laws, adding real estate inquiries to measures that already limit when soliciting can occur.
But Jewish leaders and others say the no-knock laws unfairly target Orthodox Jews and those "seeking to help them find houses." Many Jews came to the community to study at one of the largest yeshivas in the world and eventually settled down.
The 2010 census found the town had nearly 93,000 residents, about 32,000 more than a decade earlier. And town officials believe there are closer to 120,000 residents now.
"The growth in Lakewood is a sign of the great quality of life which is attracting all these people," said Avi Schnall, the state director of Agudath Israel, a national grassroots advocacy and social service organization representing Orthodox Jews.
"However, the challenge is being able to keep up with the influx," Schnall added. "This has driven people to take residence in nearby towns, where houses are more available and affordable."
Schnall calls the recent no-knock changes "troubling." He also believes there is a campaign to prevent members of the Orthodox community from moving in. And he thinks the real estate agents are being used as the scapegoats, claims that leaders in neighboring towns say are unfounded.
Municipal leaders stress that their laws are not aimed at keeping out any groups, but rather to protect residents.
"Our 'no-knock' law goes back many years. It's not just in response to what has been happening now," Toms River Mayor Thomas Kelaher said. "We are trying to protect those people from conduct that's outrageous, harassing, intimidating or unwelcome."
* * *
Source: The Journal-Gazette