"Nazi Hunter" Beate Klarsfeld Given Israeli Citizenship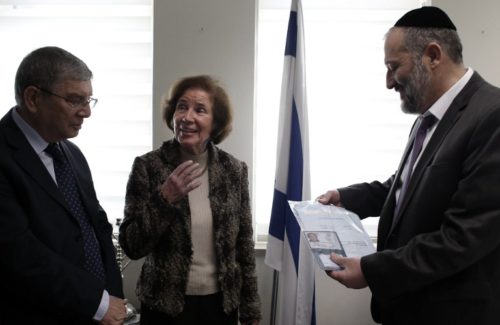 It is unprecedented for a non-Jew to be granted citizenship in the Jewish racial state, but Klarsfeld's decades-long devotion to tormenting, harassing, imprisoning, and driving to their deaths countless National Socialists gives her a special place of honor among the real haters.
GERMAN "NAZI-HUNTER" Beate Klarsfeld has received Israeli citizenship from Interior Minister Aryeh Deri, in a ceremony in Jerusalem. (ILLUSTRATION: German "Nazi-hunter" Beate Klarsfeld, center, receives her Israeli ID from Interior Minister Aryeh Deri, right, Yad Vashem head Avraham Shalev in Jerusalem on February 15, 2016.)
At the ceremony, Deri and Yad Vashem head Avraham Shalev give Klarsfeld, 77, an Israeli passport and ID.
Klarsfeld, a non-Jewish German journalist, got the Israeli citizenship for her contribution to the Jewish people with her husband Serge Klarsfeld, 80, a French lawyer and President of the Association des fils et filles des deportes juifs de France (Sons and daughters of Jews deported from France).
The two are known for working to track down "ex-Nazis", including efforts to have top SS official Alois Brunner deported from Syria.
Beate Klarsfeld was banned from Syria in 1982 and arrested in Damascus in 1991 after sneaking in and holding a lone protest.
Israeli citizenship is nearly impossible for non-Jews not born to Israeli citizens to acquire. Jews can obtain citizenship nearly freely under the law of return.
* * *
Source: Times of Israel