'Hamilton' Portrays All American Founding Fathers as Non-White
…but not evil King George.
'HAMILTON', Lin-Manuel Miranda's musical about the life of Alexander Hamilton, one of America's founding fathers, is being performed on Broadway. (ILLUSTRATION: scenes from the production)
You know it's going to have political undertones when you read that the first act is titled "Immigrants: We get the job done!"
In addition to Alexander Hamilton, Miranda's musical also casts Aaron Burr, George Washington, James Madison, John Laurens, Marquis Gilbert de Lafayette, Thomas Jefferson, Angelica Schuyler, and Eliza Schuyler all as non-White.
In fact the only leading character portrayed by a White actor is King George III, identified by American audiences as the "bad guy."
When the musical was first performed in 2013, it even had a Black actor playing King George.
Anti-Whites have re-written a lot of history, all to make White people look like some kind of super-evil "Nazi" race which has caused all of the world's problems. (If you have a child in public school, ask him what he learned in school today — you'll probably have your worst fears confirmed.)
So why are they re-writing history to make us hate, or feel guilty about, being White?
The simple answer is: Because they want to get rid of us. The anti-Whites, led by Jews, opened up America's, Australia's, Canada's, and Europe's borders to mass non-White immigration with their militant lobbying.
Now they are trying to make sure that every White area has a sufficient amount of "diversity" — in other words, trying to make sure that every currently White area begins taking the first steps to becoming minority-White.
This agenda of theirs is not "diversity" as they claim; it is White genocide, because they are trying to get rid of us. That is a crystal clear example of genocide, according to all legal definitions of the term.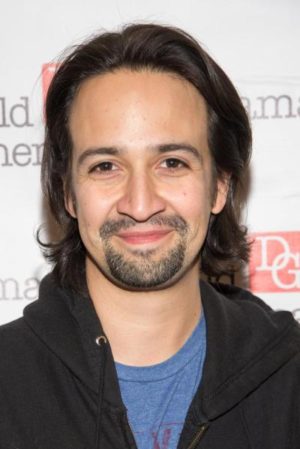 Lin-Manuel Miranda, the creator of this piece of filth "musical," appears to be of mixed race Puerto Rican descent. He has close ties to Jews: According to Wikipedia, "Miranda was born in Manhattan, New York City, and grew up in the neighborhood of Inwood. He is of Puerto Rican descent. His father is a former political advisor, who advised Ed Koch. Growing up, Lin helped create jingles, including one used for Eliot Spitzer's 2006 campaign…."
At his own wedding reception "Miranda, along with the engagement party, presented a group rendition of the Fiddler on the Roof song 'To Life.' The video was posted on YouTube, where it has been viewed more than four million times….
"Miranda received an honorary degree from Yeshiva University …during its May 14, 2009 graduation ceremony. He is the youngest person to receive an honorary degree from Yeshiva University. In the Heights is based in the upper Manhattan community of Washington Heights, which is also home to Yeshiva's campus. Ed Koch, former mayor of New York City, presented Miranda with the degree and remarked about first meeting him when Miranda was seven years old." There is no direct indication of his having Jewish ancestry.
Miranda, who is a John D. and Katherine T. MacArthur Foundation awardee, tweeted a photograph of himself last March erotically kissing another man along with the words "Let's Start a Rumor, Day 2!"
* * *
Source: based on pieces at the White Genocide Project and White Biocentrism