EP President Schulz: Germany Exists Only in Order to Ensure the Existence of the Jewish People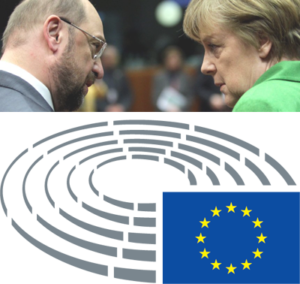 MARTIN SCHULTZ has been active in European politics for almost thirty years, and so he is a person who does not need an introduction. His position however is not one that is understood very well by normal people, because a lot of people don't know what the roles of the institutions of the European Union in the post-Lisbon Treaty environment are. (ILLUSTRATION: Martin Schultz and Angela Merkel)
In his role as President of the European Parliament, Schulz would be responsible for the overall direction of international relations, and also is the custodian of the fundamental values of the European Union. The European Parliament is the first institution in the European Union, which prior to the implementation of the Lisbon Treaty had been seen as a mere talking shop, but subsequently developed into becoming one of the most powerful legislatures in the world in terms of both its legislative powers and executive oversight powers.
Of course, informally, the political history which the individual was acculturated with along with that person's connection to the national political power, means that it can usually be considered advantageous to a member state if one of their citizens is holding such an EU position.
Schulz hails from Germany, but what does Schulz think Germany's raison d'etre is? A look at his own words in Haaretz as reported by his friend Avraham Burg, reveals something interesting:
Haaretz, 'Say a big 'thank you' to Martin Schulz', Avraham Burg, 14 Feb 2014 (emphasis added):

[…] Martin Schulz, the president of the European Parliament, is a close friend of mine. On most issues connected to the Israeli-Palestinian conflict we disagree. He is closer to the Israeli mainstream, and his positions resemble those of Labor Party chairman Isaac Herzog. He once told me, during a frank and stern conversation, "For me, the new Germany exists only in order to ensure the existence of the State of Israel and the Jewish people." […]
Schulz is of course, Jewish.
* * *
Source: Majority Rights