Brooklyn Rabbi Charged with Teen Sex Assault Gets 60 Days in Jail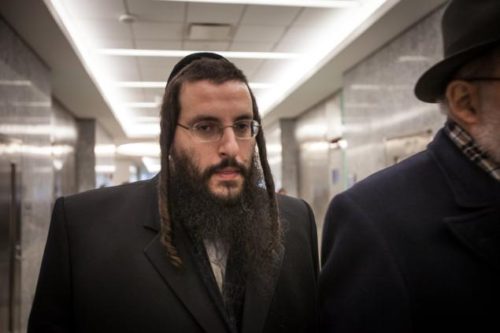 Black district attorney allowed an extremely light sentence; was Jewish power and money involved?
A BROOKLYN RABBI charged with sexually abusing four teenage boys in a hotel was sentenced to just 60 days in jail and six years of probation.
Yoel Malik (pictured), 33, a member of the Satmar Hasidic sect, was given the generous plea deal after the victims were reportedly "extremely reluctant to testify publicly," according to a law enforcement source familiar with the case. Hasidic Jewish communities are infamous for their intimidation of witnesses to Jewish sex abuse, and many Jews regard it as morally and religiously wrong to turn Jews — even Jews guilty of horrific crimes — over to non-Jewish authorities. In 2013, Malik was charged with 28 criminal counts and shamelessly blamed his underage victims for trying to seduce him, police sources said.
The boys were all students at Ohr Hameir, a now-shuttered Satmar yeshiva in Borough Park. The alleged victims were between 13 and 16 when the incidents occurred.
The rabbi (pictured, above, with his lawyer Roger Adler) was accused of groping all four boys in motels, prosecutors said after his arrest.
The twisted teacher also allegedly forced two of the boys to perform oral sex on him.
One of the victims was also forced to perform oral sex on Malik inside his car parked near a cemetery on a separate occasion, according to prosecutors.
In 2014, he pleaded guilty to a felony, luring a child, and a misdemeanor count of sexual misconduct, records show.
Over the past two years, he completed a series of probation requirements, including a sex offender class and staying away from children, court records show.

Advocates for child sex-abuse victims questioned the deal. "What DA (Kenneth) Thompson [pictured — Ed.] has done is inexplicable," said Ben Hirsch, a spokesman for Survivors for Justice. "Through unexplained plea deals such as this, he has effectively quashed any willingness on the part of victims to come forward."
Malik's lawyer, Roger Adler, said sarcastically: "I will concede he wasn't burnt at the stake. He wasn't stoned running through the village."
It's a "significant" punishment when any first-time offender gets sentenced to jail, he added.
* * *