100,000 Invaders in Just 40 Days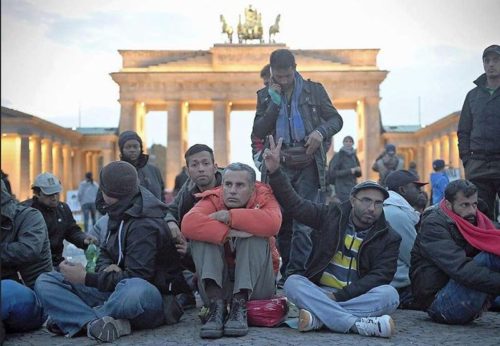 THE MASS nonwhite invasion of Europe has increased in tempo, with around 100,000 invaders entering Germany in the first forty days of 2016 alone, according to figures released by the Bavarian federal government.
Making the announcement during a European Union (EU) security conference in Munich this past weekend, Bavaria's social minister Emilia Müller said that the numbers "clearly show that the absolute numbers of asylum seekers has increased" even over the figures of 2015.
"This means that we will far exceed the one million threshold this year," Müller said, adding that if "this continues, we will have to build tent cities in Bavaria as well."
Müller demanded that the German government now set a cap on the number of "refugees" who are coming to Germany—something that Chancellor Angela Merkel has refused to do.
Meanwhile, the full extent of what Merkel's plan will do to Germany has been illustrated by new EU figures concerning birth rates among "refugees" in Turkey.
According to figures released by the European Commission (EC), the EU's executive body, no less than 151,746 children were born to "refugees" in Turkey in 2015.
This dramatic growth in numbers illustrates what is in store for Europe, as there are around two million "refugees" in Turkey.
Around 1.5 million "refugees" entered Europe last year, and, as Müller outlined above, this number is likely to be exceeded in 2016.
There are only fifty German cities with populations greater than 150,000 people. If the birth rate as recorded by the EC in Turkey among "refugees" (151,746) is replicated in Germany, then these nonwhite invaders will be adding a city the size of Oldenburg to Germany every year in terms of births alone.
At that rate, Germany will become majority nonwhite even more quickly than previously anticipated.
• The EC also revealed that in 2015, some 64,109 asylum applications were made in Turkey—but that only 459 of these applications were completed. The rest appear to have moved off from that safe country to parasite off Europe.
• Meanwhile, French Prime Minister Manuel Valls, feeling the heat from rising support for Marine le Pen's Front National, announced at the Munich conference that France would not take in any more than the 30,000 invaders to which he had earlier agreed.
This statement is in contradiction to an announcement by Merkel that more "asylum seekers" needed to be distributed around the EU than had been earlier discussed, because of the numbers involved.
* * *
Source: Praxis magazine