Obama: "We Are All Jews"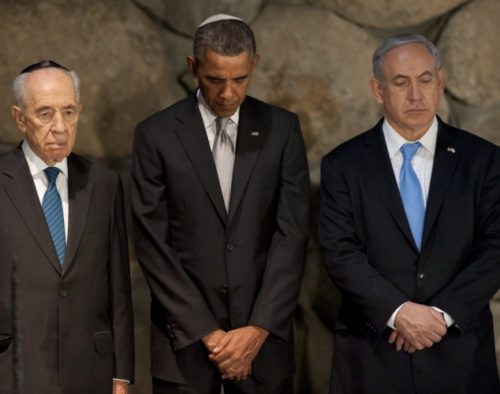 PRESIDENT OBAMA warned of rising anti-Semitism on Wednesday and, citing the words of an American World War II hero, proclaimed that Christians and people of other faiths can say "we are all Jews" in solidarity.
The president made his remark during a ceremony at the Israeli Embassy in Washington, where he took part in the first Righteous Among Nations awards banquet held in the United States. …
"Here, tonight, we must confront the reality that around the world, anti-Semitism is on the rise. We cannot deny it," Obama said. "An attack on any faith is an attack on all of our faiths." …
"When voices around the world veer from criticism of a particular Israeli policy to an unjust denial of Israel's right to exist, when Israel faces terrorism, we stand up forcefully and proudly in defense of our ally, in defense of our friend, in defense of the Jewish state of Israel," Obama said. " America's commitment to Israel's security remains, now and forever, unshakable. And I've said this before — it would be a fundamental moral failing if America broke that bond."
Obama was introduced by filmmaker Steven Spielberg. Israeli Ambassador Ron Dermer, who had worked with Netanyahu to rally opposition to the Iran deal, also spoke. Obama praised the efforts of Master Sgt. Roddie Edmonds, who — while being held captive by the Germans — rallied other U.S. captives to issue the declaration "we are all Jews" after his captors ordered Jewish prisoners to report. The declaration helped save lives of his fellow prisoners.
 "I cannot imagine a greater expression of Christianity than to say, I, too, am a Jew," Obama said. "When any Jew anywhere is targeted just for being Jewish, we all have to respond as Roddie Edmonds did."
Also honored were Lois Gunden, an American teacher in France who helped smuggle Jewish children out of an internment camp, and Walery and Maryla Zbijewski, a Polish couple who helped hide Jewish children in Warsaw.
* * *
Source: read the full article at The Washington Post