EU Plans Restrictions on Speech to Please Jews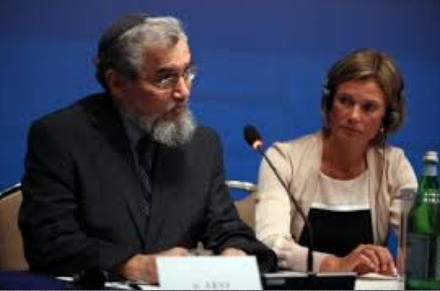 Think on this: Importing millions of Muslims and other non-Whites is an easy way to purposely cause a "spike in anti-Semitism" and so justify laws restricting speech and imprisoning anyone who questions the Jewish policy of racial replacement.
THE NEW European Union coordinator to combat anti-Semitism says among her top priorities will be to tackle the "spike of hate speech" on the Internet and to make sure European states "properly enforce" legislation on hate crime. (ILLUSTRATION: Katharina von Schnurbein and Rabbi Joseph Levi)
Katharina von Schnurbein presented her goals in Prague on Tuesday to her counterparts from member states, the U.S. and Israel.
Von Schnurbein was appointed recently after Jewish groups and some others were urging the EU to create such a position to help stop the rising hatred of Jews on the continent. She says she will also hold consultations with Jewish communities across Europe on the current situation.
U.S. envoy Ira Forman called Von Schnurbein's appointment and the Prague meeting "an extremely good sign."
* * *
No other group on Earth has imposed a special word defining — or special laws prohibiting — "hatred" (read: exposure of the truth about) it.
At Israel's request, the European Union may formulate a clear definition of anti-Semitism in a bid to better fight the phenomenon, the EU's new point person for combating Jew-hatred said.
"The definition of anti-Semitism is very disputed, even among Jews themselves. The main dissent revolves around the question of manifestations against the State of Israel. We're currently looking into this issue," Katharina von Schnurbein told The Times of Israel in a telephone interview last week from Brussels. "One thing is clear: Anti-Semitism can sometimes hide behind anti-Zionism. That is certainly our understanding here."
A German national, Schnurbein was named the European Commission's coordinator on combating anti-Semitism earlier this month. Last week, she participated in the ninth EU-Israel Seminar on Combating Racism, Xenophobia and Anti-Semitism in Brussels, together with some 30 representatives from Israel's Foreign Ministry, the European Commission, the EU's External Action Service, Fundamental Rights Agency, technology experts and NGOs.
During the meet, Israel asked the EU to adopt a formal definition of anti-Semitism, said Akiva Tor, who heads the Foreign Ministry's bureau for world Jewish affairs and world religions. "This would enable better monitoring and better law enforcement," he told The Times of Israel on Monday.
"We also expressed our view that any formal definition of anti-Semitism must include the issue of delegitimization of Israel and the denial of Israel's right to exist as forms of anti-Semitism," he said. "We found the EU quite attentive and we look forward to working with them further on it."
Israel, however, did not ask the EU to define support for the anti-Israel BDS (Boycott, Divestment and Sanctions) movement as anti-Semitic, aware that calls for a boycott arise from a variety of sentiments and generally fall under the right for free speech, and thus are unlikely to be outlawed.
"When the right of the existence of Israel is doubted — that is a clear case [of anti-Semitism]," Schnurbein said. "But as I said, this definition itself is not easy, also for Jews. We're looking into this issue."
In 2013, the EU's agency for fighting racism suddenly dropped its definition of anti-Semitism — which included vilification of Israel — from its website, drawing criticism from Jewish groups.
"It was a working definition that was put on the website of the Fundamental Rights Agency, which is under the umbrella of the European Union institutions but is independent. For different reasons, they decided to take it off," she said.
During the EU-Israel seminar, experts mostly discussed ways to use legislation to tackle anti-Semitic hate crimes and online hate speech inciting violence, said Schnurbein, who has visited Israel on several occasions and is currently learning Hebrew.
"In recent years we have seen a worrying spike in anti-Semitic incidents, especially after the fatal terror attacks in Toulouse, Brussels, Paris and Copenhagen. And we see there's an increased fear among European Jews, for example in the UK."
Local agencies monitoring anti-Semitic incidents have registered a dramatic increase in recent months, Schnurbein said. In France, for instance, there has been an 84 percent increase in verbal and physical attacks against Jews during the first six months of 2015, compared to the same period in the previous year, she said, citing new figures collected by the Service de Protection de la Communauté Juive.
"That is worrying. The Commission fully understands the concern of the Jewish community and we take them seriously," she said. "Anti-Semitism, no matter how marginal, is never acceptable. There's no tolerance for any form of racism and anti-Semitism in our European values."
At the same time, Schnurbein rejected concerns that the current wave of immigration to Europe from Syria and other Arab countries would lead to an increase in anti-Semitism. Germany, which accepted the largest contingents of refugees this year, has actually seen a drop in the number of anti-Semitic incidents in the first half of 2015, she said.
"It is very clear that the values we have in EU include no tolerance for anti-Semitism, and it's clear that this will become part of the value system for all those who want to stay in Europe," she said. "Our aim is to build an inclusive society where everybody can feel at home, and that's what we're working toward — with education, for example. In schools, but also in terms of civic values, 'no tolerance toward anti-Semitism' will be part of that civic education."
Schnurbein, 42, rejected claims, made by several top Israeli officials, that the EU's demand for special labels for Israeli goods made in the settlement goods is anti-Semitic. "One should be careful with using this term lightly," she said, especially out of respect to those who have experienced actual anti-Semitism. "With respect to the victims, let's weigh our words."
The EU rejects BDS, and products from within Israel's internationally recognized borders will continue to enjoy preferential customs treatment, she vowed. "We are worried whenever we see boycott movements… The existence of Israel is not to be doubted; boycott movements are not to be tolerated. This is something that we are about to engage with."
As the EU's new point person for combating Jew hatred, Schnurbein, who previously was the Commission's coordinator for dialogue with religious and non-confessional organizations, will liaise closely with Europe's Jewish communities.
"The fight against anti-Semitism must not be left to the Jews in Europe," she said. "No tolerance for anti-Semitism is a responsibility for society at large."
* * *
Source: U.S. News and Times of Israel