British Teenagers Will Go on Trial for Stealing Artifacts from Auschwitz-Birkenau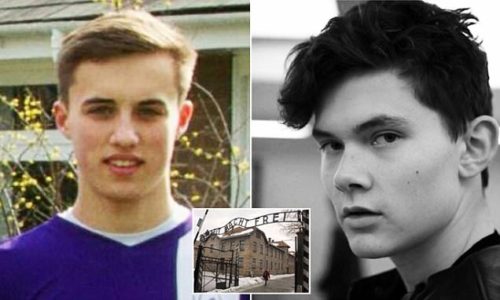 EDITOR'S (tongue-in-cheek) NOTE: Authorities were amazed to discover that the children had stolen (and then misplaced) not only the personal artifacts mentioned in the media, but had actually made off with all documentation and physical evidence of the Holocaust, including the gas chambers of Auschwitz and Sobibor, from everywhere in Germany and all occupied and allied countries. A noted Holocaust scholar and rabbi who asked not to be named wailed: "If only there had been time to study these relics before these naughty children took them all. If only…!"
TWO BRITISH TEENAGERS were arrested recently for the crime of stealing artifacts from the location where the Canada warehouse burned. (ILLUSTRATION: Marcus Dell and Ben Thompson)
The following quote is from a news article which you can read in full at http://www.dailymail.co.uk/news/article-3377939/Two-British-teenagers-accused-stealing-artefacts-Auschwitz-school-trip-face-trial-Poland-retracting-admission-guilt.html
Marcus Dell and Ben Thompson were arrested in June during [a] school trip. They were accused of stealing items from [the ruins of] Auschwitz [Birkenau] concentration camp. [They were] Originally released with suspended sentences after admitting taking items. But they have now changed their minds and will face a trial, prosecutors in Poland have revealed.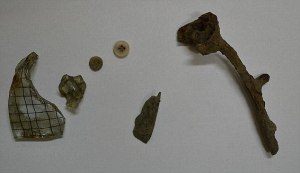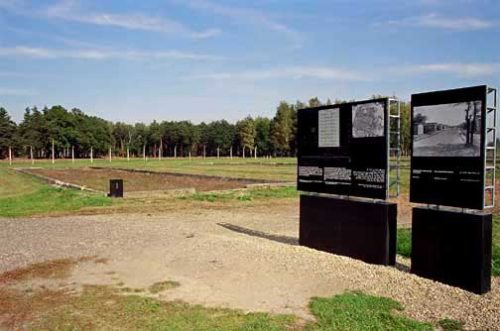 The photo above shows that the location of the Canada warehouse was completely bare ten years ago. Did these boys dig up the ground to find these artifacts? Shame on them for desecrating sacred ground where the clothing of the Jews was once stored.
This quote is from the news article:
[The two boys] were apprehended on the site of warehouse number five — known as Canada — where Nazi guards had stored items confiscated from prisoners.
The teenagers faced up to ten years in jail for carrying out activities related to the misappropriation of objects that represent special cultural interest, to the detriment of the museum.
They had been held in cells at Malopolska police station and interrogated through an interpreter.
But they were released with suspended sentences plus fines of 1,000 zloty each — about £170 — after admitting taking the items.
Polish prosecutors said today the pair had changed their minds and would now face a trial.
The boys have withdrawn their admission of guilt, explaining that they were not aware that the items had special cultural significance.
Krakow Regional Prosecutor's office spokeswoman Boguslawa Marcinkowska told BBC News the indictment had been sent on Tuesday to the Regional Court in Krakow.
It is illegal to take items of historical significance from Auschwitz, where at least 900,000 Jewish people were killed during the Second World War.
The Germans torched the warehouse in 1945 and many of its possessions still lie buried in the soil. Canada was classified as a cemetery and the site left untouched.
* * *
Source: Scrapbookpages Blog