Arizona: Girls Who Dislike Blacks Must Be Punished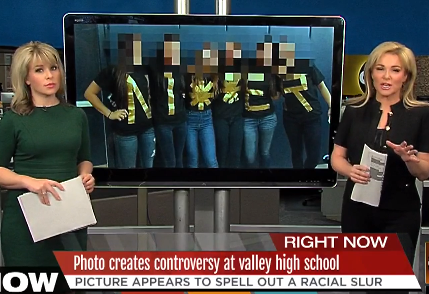 EDITOR'S NOTE: Jews and the duped may think that White girls disliking Blacks is "evil" and "immoral" and worthy of expulsion and "sensitivity training," but we do not. Maybe their expression was a little crude, but these are girls who will likely not be ruining their lives in crack houses, being sexually used and enslaved by Black gangsters, or carrying mulatto babies in the aisles of Walmart. It's the White girls who do do such things who need special mental health training — not those who have healthy instincts and a spirit to resist the media/school brainwashing.
IN PHOENIX, several high school girls are "in hot water" after taking a photograph of themselves joking around and, perhaps, mildly expressing their dislike for Blacks.
Complaining anti-White activists began contacting controlled media outlets on Friday about a photo that was apparently taken by a group of students at Desert Vista High School in Phoenix and then posted on social media.
In the photo, six girls are seen grouped together smiling while "N-I-*-*-E-R" is spelled out in individual gold letters across their black shirts.
A separate picture from a Desert Vista parent on Instagram showed the girls' lettered shirts as part of a larger message in a planned, posed shot spelling out "BEST * YOU'VE * EVER * SEEN * CLASS * OF * 2016."
Jill Hanks, executive director of community relations for Tempe Union High School District, said in an emailed statement, "We are absolutely aware and outraged by this behavior. The students will be disciplined in accordance with district policy and while we don't discuss specific discipline I can tell you that will be addressing the obvious need for sensitivity training in this case." It later came out that the girls will be suspended from school for 30 days.
A statement in regards to the incident from the Tempe Union High School District's Superintendent Dr. Kenneth Baca said, "It is unacceptable for any racial slur to be used regardless of intent. We need to understand that words matter."
A letter was sent to parents of Desert Vista students from Principal Dr. Christine Barela which read in part:
"We want to let you know we share your outrage and disappointment over the actions of a handful of our students today. We want to make it crystal clear those actions are unacceptable and will not be tolerated at Desert Vista. Those actions do not represent who we are as a campus. We can assure you we will discipline these students in accordance with district policy and our student handbook. While we don't discuss individual discipline, we can tell you that in addition, the obvious need for sensitivity training will be addressed." [emphasis added]
The photo began going viral Friday afternoon prompting a change.org petition calling for the expulsion of the students as well as the principal to be fired.
* * *
Source: KNXV