2016 Politics: Requiem For America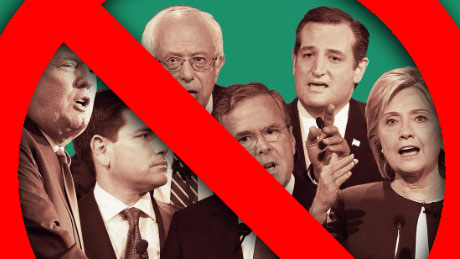 PATHETIC America: The current leading candidates for the 2016 US Presidential election can be described thus:
Republicans:
1. A real estate billionaire/reality TV star who is beloved by White racialists and right-wing gamesters despite being an ignorant buffoon, defending affirmative action, promoting "touchback" immigration into the USA for Mexican illegals, and having Jewish family connections.
2. A hawk-faced half-Cuban born in Canada and thus ineligible for the office he seeks, who supports large-scale increases in legal immigration, and who lies to the lemming-like White masses about his pro-immigration views and his support from "New York values" wealthy establishment figures.
3. A Miami-Vice-style Cuban who was, and still is, a prime mover for illegal alien amnesty, a Neocon-puppet who manages to be more of a plastic phony than even "strap the dog to the roof of the car" Romney.
(We will pass over Jeb Bush, the "man" with the appearance and aura of a sleepy wombat, and his Hispanified family, as his level of support is barely in the positive range.)
Democrats:
1. A Wall Street-financed ultra-leftist harridan, champion of mass Third World immigration and of Colored Privilege, an advocate of "women's rights" who is widely reputed to be a lesbian and who is "married" to an ex-President who is an alleged rapist and who is known to have been fellated by a Jewess intern in the White House, a decaying harpy being investigated by the FBI for arrogantly and stupidly using a home server to handle secret and sensitive government documents during her undeserved tenure as Secretary of State, a corrupt reptile who is alleged to have sold favors to foreign governments for donations to her family's finances.
2. A socialist Brooklyn Jew, an ultra-leftist with documented past communist connections, a groveler to Negro radicalism and to Open Borders immigration, a lying imbecile who misreads the meaning of the angry electorate and who tries to "whitewash" (no pun intended) the racial and cultural reasons for that anger, a decrepit fool who stands by sheepishly while "Black Lives Matter" simians seize his microphone at an electoral event, a Levantine alien whose ancestors should never have been allowed on American shores.
In summary: Where is the national sense of embarrassment for this travesty?
* * *
Source: EGI Notes