Ukrainian President Poroshenko Addresses the Knesset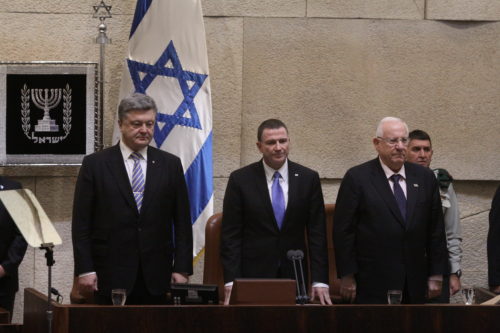 IN HIS address before the Knesset Plenum on Wednesday, Ukrainian President Petro Poroshenko said his country and Israel "have a long history, but they are relatively young on the political map. Thousands of years and hundreds of threads connect our countries."
The Ukrainian nation, he said, "has made a desperate attempt to renew its independence. On our bills one can find the four languages that are widespread in Ukraine — including Yiddish. The Jews, as a nation, took part in Ukraine's inception."
Poroshenko told the Knesset "I am certain that between 1910 and 1920, Ukraine, Europe in general and the entire world could have gone in another direction and avoided the great tragedies. Soviet Ukraine was among the first to support the establishment of the State of Israel in 1948."
"Many key figures in Israel were born in Ukraine, including Knesset Speaker Yuli-Yoel Edelstein. Many Jews contributed to the development of Ukraine in the fields of science, economy and culture, and they will forever be engraved in the pages of history," he said.
The Ukrainian leader referred to the massacre of more than 100,000 Jews at the hands of the Nazis in Babi Yar as a "shared wound that has yet to heal," and mentioned that he has issued a presidential decree to begin preparations for the 75th anniversary of the massacre. "We ask that you take an active part in commemorating the massacre," he told the Plenum.
"We must remember the negative events in history, when collaborators helped the Nazis seek the Final Solution," Poroshenko said. "Following its establishment, Ukraine asked for forgiveness, and I am doing it now at the Israeli Knesset in front of the children and grandchildren of victims of the Holocaust, who experienced that horror first hand. I am doing this in front of all the citizens of Israel."
"The tragic events of the past demand that we raise our children on the principles of human dignity, tolerance and freedom," he stated. "This is precisely what we are fighting for in Ukraine."
In his speech, President Poroshenko called to strengthen Ukraine-Israel ties in the fields of culture, economy, politics and more. He said the most important element in the effort to deepen the bilateral relations between Ukraine and Israel lies in Ukraine's election as a non-permanent member of UN Security Council in the years 2016-2017. "I promise that while holding this esteemed position, Ukraine will be an advocate of peace and justice all over the world, including the Middle East," Poroshenko declared.
The Ukrainian leader went on to say that his country was "in awe of your achievements in science, medicine and the military, and of the diligence of the Jewish people, who built a modern and prosperous country in such a short time."
"Today we are dealing with challenges that are similar to those you have faced, and we are learning from your experience — the war against centrality and corruption, as well as judicial and military reforms, and more," he said.
Poroshenko told the Plenum that his country "has been living under Russian aggression for the past 21 months. The number of Ukrainian victims of the terror that is funded and supported by Russia has reached 9,000, including some 6,000 civilians. In the occupied territories there is anarchy, lack of tolerance and theft. The Jewish community in Crimea, which numbers close to 17,000 people, may find itself in similar situation, as the conquerors have started to cultivate the anti-Semitism issue as well."
Russia, he continued, "is employing its method of operation not only in Ukraine, but in other parts of the world as well, particularly in the Middle East. Under the pretext of a war against ISIS, Russian aircraft are bombing the moderate forces of the moderate opposition in Syria. The victims of these bombardments are innocent civilians. The most deadly types of weapons are being transferred into Syrian territory by Russia. Against whom are these weapons directed? And into which hands can they fall tomorrow? Russia recently supplied Syria with systems that are capable of influencing the balance of power in the region."
"We are a free country that is fighting Russian aggression and is protecting the democratic regime," the Ukrainian leader declared. "We want to decide our future alone."
"When evil triumphs in one place, it wants to continue to another," Poroshenko said, while urging Israel's politicians to "present their position regarding Ukraine more clearly."
* * *
Source: Israeli Knesset