Jewish Psychologist and Jewish Attorney Agree: Jewish Terrorist Should Walk Free Without Trial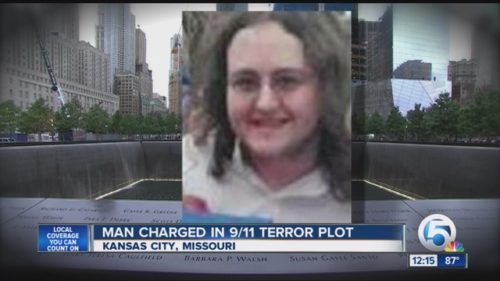 Joshua Ryne Goldberg (pictured) is "not competent" to stand trial, according to Dr. Feldman. But he was competent enough to successfully impersonate an ISIS terrorist and an anti-White Jewish feminist extremist (among many other roles) — and plot a bombing.
EDITOR'S NOTE: This reminds us of the case of killer Yosef Haim Ben-David, another case in which a Jew escaped justice by claiming — with a lot of powerhouse legal assistance — to be "mentally impaired." Once the heat is off, I predict these vicious Jews will be walking about freely. What is evolving is one standard of "justice" for them, and quite another for everyone else. Goldberg appears to have an even stronger case of the Jewish talent for mimicry and intentional creation of multiple personalities than did half-Jew Peter Sellers, who parlayed that talent into a multimillion-dollar acting career. But Goldberg is only 20 — so give him time.
* * *
A PRISON psychologist in Miami has found an Orange Park man charged with terrorism is not sane enough to go on trial. (ILLUSTRATION: A house in Orange Park, Florida where a 20-year-old man was arrested in connection with a terrorist plot to bomb a 9/11 event, Friday, September 11, 2015.)
U.S. Magistrate Judge James Klindt said Thursday that Joshua Ryne Goldberg, 20, had been examined by Lisa Feldman of the federal detention center in Miami and Feldman found Goldberg to be "suffering from a mental disorder that significantly impairs his ability to understand what is happening."
Klindt said a competency hearing for Goldberg would occur Dec. 14 with Feldman testifying. If Klindt is satisfied with Feldman's conclusions, Goldberg is likely to be sent to a mental institution rather than face a trial.
Prosecutors and defense attorneys both declined to discuss the case after Thursday's 10-minute status conference. Defense attorney Paul Shorstein said details about his client's mental condition would become apparent at the Dec. 14 hearing.
Shorstein has previously said Goldberg suffers from depression and his parents have indicated he has other mental health problems.
The criminal complaint against Goldberg said he had many different personalities online, at different times claiming to be an Australian militant who'd joined the Islamic State, a Jewish attorney, a news reporter, a feminist and a free-speech advocate.
Goldberg was at Thursday's hearing in a beard and shoulder-length hair while wearing a prison uniform and shackles. He showed little emotion but did turn and waive to his parents as he was being led out of the courtroom.
His parents declined to comment after the hearing.
Authorities say Goldberg conspired to have a pressure-cooker bomb detonated at a 9/11 memorial event in Kansas City, Mo., in September. He is charged with distributing information related to explosives, destructive devices and weapons of mass destruction.
If convicted, he faces a maximum penalty of 20 years in prison, according to the U.S. Attorney's Office.
No bomb was ever made. An affidavit filed in the case said an FBI informer was in contact with Goldberg on Twitter and was given instructions to fill a pressure cooker with nails, metal and other items dipped in rat poison.
The FBI informer posed as a college student living about an hour away from Kansas City who expressed an interest in making a bomb, according to the affidavit.
Goldberg told investigators he provided the information but hoped the person would kill himself trying to make it, according to the affidavit. He said if the person successfully created the bomb, he would have alerted authorities before the attack and would be a hero.
* * *
Source: Jacksonville.com